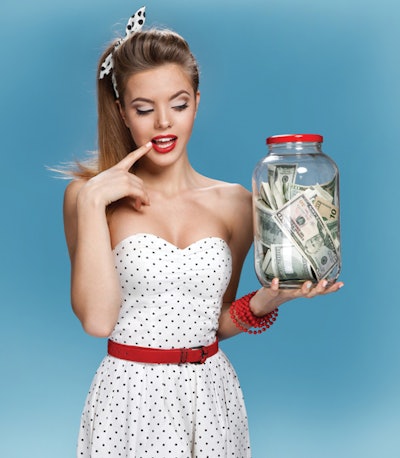 Let's face it: No matter how lucrative a career might promise to be, starting a new venture or strategizing how to stay in it to win it can be scary. After all, according to the U.S. Small Business Administration, 80 percent of small businesses survive their first year, but that number drops significantly with only 50 percent making it to year five and one-third to year 10. Regardless if you're a soloprenuer or running your own lashing studio, the profits you reap will likely determine your business' longevity, making doing your homework and investing your monies wisely to net a positive return imperative. "Every dollar truly does count!" stresses Shelby Tarleton, Lash Affair trainer and owner of Pink Lady Lash in Austin, Texas. Here, leading lash pros reveal how to set yourself up for success and where to put your hard-earned cash so you can generate profits and stick around for the long haul.
Smart Staffing 
It's a cold hard fact that you're only as good as your team. "Hiring the right staff is the single most important thing you do!" says Los Angeles-based LAshX and Makeup Mandy CEO Amanda Jacobellis. The quick route to earning a fast buck: employing seasoned lash artists who bring experience, confidence, speed and technique to the table, enabling them to hit the floor running. "They'll be able to take more clients, represent your salon well and help you to build a reputable brand. Plus, you won't have to take copious amounts of time in training them to get them up to par," explains Kim Jaynes, founder of Borboleta Beauty in Salt Lake City.
If time isn't of the essence, green artists don't necessarily deserve the cold shoulder. Sugarlash PRO CEO and founder Courtney Buhler in Edmonton, Alberta, Canada, reasons that experienced pros may come with a slew of bad habits that need breaking, but it's easy to mold newbies into dream employees. "They might not be able to bring in a ton of revenue at first ... but when you take them under your wing, they'll feel more loyal to you and your business," says Buhler.
RELATED: Borboleta Beauty Founder Kim Jaynes on How to Sell More Retail Products
Do you have space for more than one new employee on your roster? There are advantages to hiring both rookies and pros, such as offering a variety of price points based on experience level. Doing this can open the door to additional clients, says Francisco Catedral, The Lash and Beauty Studio owner and JB Lashes master trainer in New York. In the end, whomever you retain must possess charisma. "I think more important than the employees' skill level is their personality," says Jacobellis. "Clients can get lashes almost anywhere now and they come to your salon because of the people, and the relationship they build with their lash artist is why they'll continue to come back."
No doubt about it: A happy staff will work harder, stick by your side and net you more loot in the long run, which is why you must make employee appreciation a priority. On busy days treat staff to an in-studio lunch or dinner, recognize their achievements and remember their birthdays. "Small gestures make a huge difference and go a long way," says Catedral. Quiz them on their motivators in their interview and, if they stress money, challenges or praise, provide them that value. "At the end of the day, a great workplace is one where employees' financial, emotional and motivational needs are met, so understanding what drives them is crucial," explains Buhler. Don't be a penny-pincher! "If you try and save money by not paying your team well as the stylists better their skills and grow their clientele, they will move on to a salon where they can make more," warns Jacobellis.
Not to mention, when you mentor staff and invest in their education, you'll be paid back in droves. Not only will clients pay a higher price tag for a well-trained staff, but also your team will feel valued and supported. "[Continuing education] is one of the best ways to build employee retention and they'll [want] to do their very best work and produce amazing results for the salon," says Jaynes. To boot: They'll feel more comfy raising their prices. "Education not only boosts your bottom line, but also it empowers your staff's confidence, builds self-esteem and stimulates creativity," adds Maryann Matykowski, Glad Lash training and education coordinator and owner of Soft Whisper Salon in Surprise, Arizona.
Face Value
Your market will determine the average going rate in your area, but it's also wise to do some sleuthing and spy on the competition down the street. Scour Google and competitors' social media and schedule a trip to their studio, suggests Catedral. How do your atmosphere, services, products, skill level and experience stack up? In reality, only you are you so your worth should be based solely on the unique experience you provide. "When an owner truly knows exactly what she wants her business to be and appeals to a specific client who resonates with her business's look, mission, values and brand personality, there's no such thing as competition anymore," says Buhler, who teaches this idea in depth in Sugarlash PRO's 35-week LashPRO Accelerator business course.
RELATED: Yelp Marketing 101 for Salon Owners
While it might be enticing to set your prices lower than your rival to spur business, you might actually drive away prospective clients. "You'll send a message that your services don't hold as much value," explains Tarleton. On the other hand, price your services too high and you risk turning off some clients. In the end, it's important to know your worth—and stick by it. "Don't be afraid to lose a client," says Tarleton. "If you truly set your price based on the value of your service, knowledge and level of artistry, then you'll attract the client who will value that."
Even if you recognize why you're worth your prices, your clients might not understand. To drive the idea home, show off your portfolio, inform them of recent trainings and proudly display your certificates of achievement. "The certificates alone will make a statement," says Matykowski. Go the extra mile and contribute to a lash education blog, share informative videos on social media and create a detailed website. "These will help clients see that you're the real deal," explains Tarleton.
Space Solutions
Private rooms allow you to charge more as guests will be treated to a quieter experience where they can air their personal grievances. However, an open floor plan will get you the most bang for your buck. "The client slightly loses out on privacy but it ensures the space is utilized from wall to wall," explains Tarleton. A general rule of thumb for comfort and safety: add curtains or dividers, leave at least 3 or 4 feet between beds, and build 6-by-9 foot workstations. "You need room to move around the bed as well as have some elbow room and a little privacy," says Matykowski. Limited on the number of beds you can house? Bump up the hours and workdays on the schedule, create shifts and hire multiple employees who put in less time. "If your profit centers (beds) are only being utilized 50 percent of the time, you're losing money," explains Matykowksi.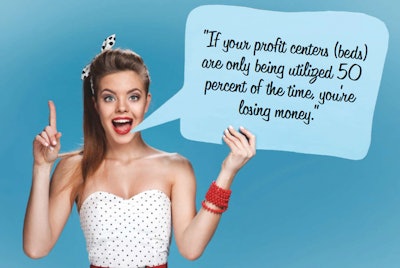 Penciling in Productivity
The surefire method to securing appointments and a wad of cash: pre-booking. "Your income [will be] guaranteed by pre-books," explains Matykowski, who suggests filling in the gaps with call-in and drive-by business. While online systems like Mindbody, Booker, Genbook, Timely, Acuity Scheduling and Schedulicity will help to streamline the booking process and remind clients of upcoming appointments, they don't come without some downfalls. "[Online systems] can show clients how open your schedule is, which in turn doesn't create a sense of urgency and can cause unnecessary schedule gaps. Also, clients may not see the time they want available and might call another place instead," says Tarleton. To avoid these scenarios, encourage your front desk staff to lock in guests for their next fill at the end of their current appointment.
RELATED: Beauty Marketing Pros on Optimizing Social Media Hashtags
Some more productivity pluses: Save time by keeping client lash files on hand and pulling them before the day begins, and safeguard your wallet by saving clients' credit cards and clearly outlining your cancellation policy during bookings, suggests Buhler. Give staff a lunch break and/or buffer of 10 to 15 minutes after each appointment so team members have a chance to grab a drink, take a bathroom break, stretch, prep for their next client, organize and clean, or practice techniques. "Employees can work more effectively and focus better on their clients when their minds are refreshed," says Catedral. "This will keep clients coming back and also show your employees you care for their well-being." Bonus: The extra time also allows them the opportunity to break up lashing monotony and nab more dough with add-on services, like an eyebrow or facial wax,
or lash tint or perm. "Add-ons cost little or no time to increase margins," says Jacobellis. "Time is our most valuable commodity so anything that increases revenue without taking a lot of time is a great investment." While you might believe packing in more clients a day will prove better for your bottom line, those precious minutes spent waiting for a client to get settled, changing the linens between clients, filling out forms or doing initial consultations will net you more money if you fill them with those aforementioned add-ons. "Service providers will always make more per hour when seeing less clients but performing more services per client," says Jacobellis, adding, "You'll also perform better while ensuring client satisfaction and retention."
Retail Details 
Don't let the opportunity to offer customers revenue-generating retail pass you by. Just look at the numbers: Depending on your effort, retail can account from 20 to upward of 50 percent of your annual revenue. "It can literally pay for your salon coordinator's salary!" claims Matykowski. Jacobellis points to these facts as another motivator: "Studies show that clients who purchase three or more products are 90 percent more likely to return to that service provider ... than a non-purchasing guest."
Steer clear of being the overzealous pusher who tries to upsell clients on products they don't need. "It doesn't make for a trusting or lasting relationship," explains Tarleton. What clients do need: aftercare, so don't fret if this sale means they come back less frequently. "Aftercare gives your clients the best experience possible [with their lashes]," says Jaynes. "When you have clients that value the work you do they'll pay more for their services, will want to keep up on their fills and will be a great source of referrals."
Does your team need a little push to sell retail? If they're incentivized with a small slice of the retail pie they'll likely be more eager to make the sale. "Compensating even a small amount like three percent makes retail rewarding for the employee," says Catedral. "It's a win- win situation."
Marketing Game Plan
hink about your goals when determining how much you should bankroll for marketing as it's each to her own. Buhler throws out this ballpark figure: Allocate 15 percent of your revenue—unless "you're struggling or just beginning; then you'll want to be closer to the 40 to 50 percent range." Before you go gung-ho, get your branding in line. "Color palette, logo, website, typography, personality and brand voice all need to come first," explains Buhler. Once that's all set, work on search engine optimization and social media, she adds. But most importantly, test the waters before signing any contracts or holding up your funds in any one place. "You aren't going to know what works best until you try, so make small investments at first and then invest more when results are produced," says Jaynes. A good resource to tap: your peers. "Learn from their mistakes before you invest!" suggests Matykowski. You might be able to learn your return on investment (ROI) results directly from your preferred method but, if not, go straight to the source. "Asking clients, 'How did you hear about us?' will be a quick and easy way to see which avenue yields the best return on investment," assures Tarleton.
[Images: Getty Images]