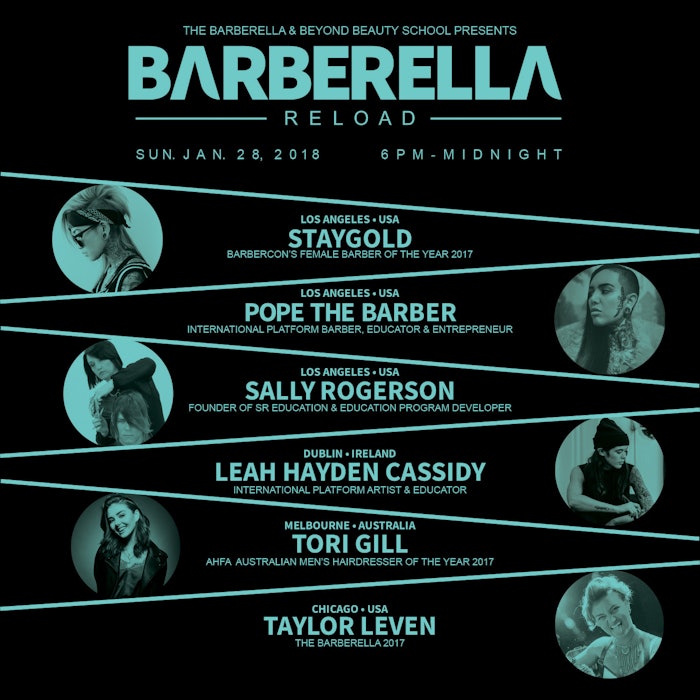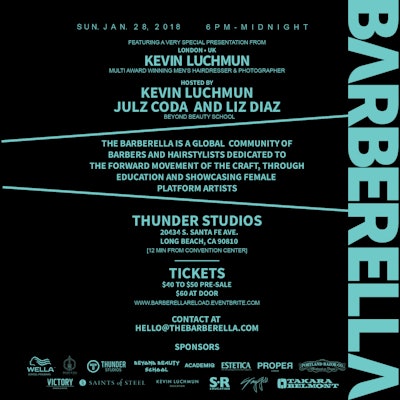 If you've wanted to learn more about barbering, but have maybe been a bit intimidated by the, well, masculinity of it all, well have we got some news for you. Check out Barberella Reload, a hair education event featuring some of the most talented female barbers and educators from around the world. Hosted by KevinLuchmun as well as Liz Dias and Julz Coda of BeyondBeautySchool, the Barberella Reload takes place Sunday January 28, 2018 from 6 PM to midnight at Thunder Studios in Long Beach, California, a 12-minute drive from the Long Beach Convention Center. The event also welcomes the first U.S. appearance for Hayden_Cassidy, one of the most recognizable female barbers and educators in the world from Dublin, Ireland via Berlin, Germany, and ToriGill_Barber, the 2017 AFHA Australia's Men's Hairdresser of the Year from Melbourne. Other artists includes long-time friends and superstar barbers staygold31 and popethebarber; former Vidal Sassoon Creative Director sallyrogerson; and the 2017 winner of The Barberella, trends.by.taylor.
Sponsored by Mizutani Scissors, Takara Belmont, Portland Razor Company, Victory Brands, Wella School Program, JRL, Beyond Beauty School, Attachment and many more, the event is also paying it back to the community. Fully 100% of money generated from bar sales is going to support Saints Of Steel (saintsofsteel), a non-profit organization that offers next steps toward employment and reconnection with loved ones to people experiencing homelessness, undeserved families and those displaced in the LGBTQ+ community. They transform lives through haircuts to produce a level of confidence that encourages participants to activate the journey towards economic stability and through activating programs offered by their partners.
For more information and to get tickets, visit www.thebarberella.com.
What is Barberella? It's a global community of barbers, hairstylists and hair industry professionals dedicated to the forward movement of the craft and culture of barbering and men's grooming. Our intention is to create a platform where members of the community are empowered through education and their talent is cultivated and highlighted. We achieve this by creating original online educational content and offline educational events showcasing talented female platform artists. Follow them at thebarberella.