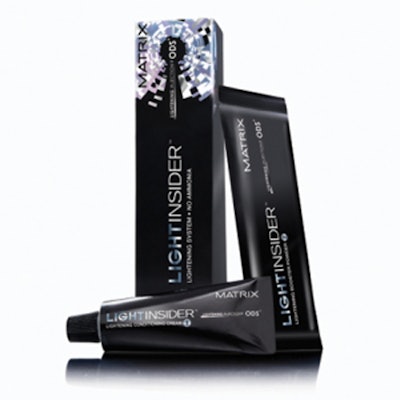 Salon clients love to lighten up—in fact four out of five clients opt for a shade that's lighter than their natural hue. Now lightening services such as balayage and highlights can be less damaging and more comfortable than ever, thanks to the breakthrough, no-ammonia LIGHTINSIDER Lightening System from Matrix.

According to Matrix Celebrity Hairstylist George Papanikolas, LIGHTINSIDER provides 27% more conditioning than ammoniated lightener formulas for unparalleled hair fiber respect!  "Ombré, balayage, babylights and tortoiseshell lights are just some of the trendy lightening techniques my celebrity clients are requesting every day," says George. "With LIGHTINSIDER, I can provide these beautiful effects without worrying about damaging the hair."

LIGHTINSIDER joins the popular Matrix COLORINSIDER family, and as such, offers the same unique Oil Delivery System (ODS) and ammonia-free formula. It provides up to six levels of lift and can be used on or off of the scalp. The system includes Lightening Conditioning Cream and Lightening Boosting Powder, and it's designed to be used with the COLORINSIDER Oil Delivery System Developer—10, 20 or 30 volume. "Like COLORINSIDER," says Papanikolas, "LIGHTINSIDER'S ammonia-free formula makes the service odor-free for my clients, which really enhances the salon experience."

Papanikolas has worked with the team at Matrix to demonstrate the capabilities of LIGHTINSIDER by creating a collection of new lightening techniques. These techniques demonstrate that LIGHTINSIDER is the perfect product for stylists to use to attract new clients!  Colorists can also visit the Matrix YouTube channel— https://www.youtube.com/matrix —where they will find a balayage demonstration by Papanikolas, who is known for his signature balayage techniques on many of his celebrity clients.

The Matrix LIGHTINSIDER Lightening System will be available in fine salons in May of 2015.
[Image courtesy of Matrix]