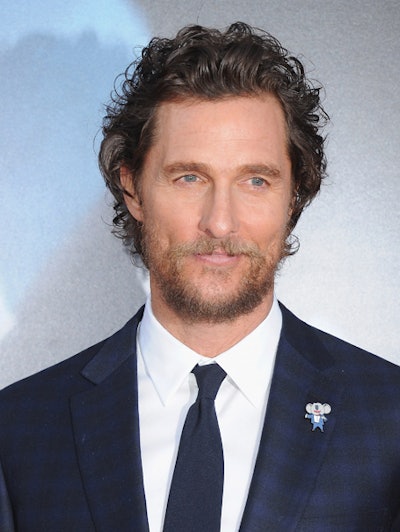 Gender-biased proverbs to the contrary, a fantastic head of hair can be a man's crowning glory, too. And that's especially true when that man has been blessed with a good supply of natural curls. There's only one problem: That blessing doesn't come with an instruction manual. Fortunately, MAN consulted some of the top educators in the business for their advice on the best ways to woo and guide curly-haired male clients.
"Work with Your Canvas"
Many guys just don't know what to do with their mane of coils, and thus seek to minimize it or fight against it (did someone say "buzzcut"?). "It's a misconception that curls are unruly and can't be tamed," says Ashlee Merriweather of the Sport Clips Artistic Team. "It's just that a lot of guys don't want to use conditioner or haven't been taught how to use products properly—whether they're worn on a man or woman, curls need moisture."
Stylists should show their clients that, rather than try to beat their curls into submission, they need to take a more accepting, cooperative approach. "The main difference between working with curly hair and working with straight hair is that with straight hair, you're typically wanting to have the hair move and do unnatural things," explains Jason Potchen, international Andis educator and platform artist. "But with curly hair, you're not trying to create something that isn't already available. It's an absolute necessity to work with your canvas and not against it."
VIDEO: Irish Barber Documentary 'GRUAIG' Trailer Debuts Online
Factor in a little extra time for your curly-haired client's first visit so you can offer a prolonged pre-service consultation. This gives the client time to share his desires and concerns about his "unmanageable" hair, and develop a sense of trust in you. "One of the key questions I ask my clients is, 'Do you like fullness or a subtle wave just to add dimension?'" says April Guiliani, a Wahl Education and Artistry Team Member.
Your extended consultation also allows you to really examine that canvas and figure out your options. "Working with curly or wavy hair requires getting a visual and mental picture that you need to create before you start cutting," notes Pedro Zermeno, co-founder of Imperial Barber Products. "Talking and understanding what the client wants is important, and so is examining and understanding his particular growth pattern. A true barber knows this process."
Creating Curled-Class Looks
Many of the men walking this year's runways and milling around at red carpet events have sported statement-making, curly hairstyles. "Consider Matthew McConaughey, Jimmy Butler and Jonah Hill," says Potchen. "Here are three very different men with very different styles and looks that all accentuate their curly locks." The trick, of course, is to create a flattering shape that complements the client's face shape. "Tailored perimeters with some length on top is extremely popular, as is the aggressively short sides and back with a loose, natural top, which has been gaining steam into 2017," Potchen notes.
To create the desired effect for his client, Maurice den Exter of the Esquire Grooming Barber Team follows a thorough shampoo and scalp exfoliation with application of a thickening cream. "I use the cream as a cutting lotion, which is essential for curls because it minimizes the friction between the blade and the hair shaft, which then reduces frizz—the No. 1 enemy of curly hair," he says. "The haircut itself is then performed with a 'pinching' technique, in which I grasp the hair between my thumb and forefinger, slice cutting from root to end. This technique gives natural curl the most movement.
"When the cut is done, I select a styling product based on the client's textural desire," den Exter continues. "The key to success in male grooming, in general, is to minimize the styling effort your client has to put in every day, while maximizing the look."
RELATED: Stylists Share Top Men's Styles to Look for in 2017
Guiliani loves to coax the natural curl from her male clients' hair by doing a clean fade, cutting to even out the top and then using a point-cutting technique to add movement at the ends. Then, of course, she applies grooming cream throughout. "It's a luxurious, classic and creative way to achieve body and movement in the hair," she says.
Like Potchen, Sport Clips Artistic Team member Krystle Sierras touts a cut that's short on the sides and back, and longer on the top to "maintain the curls but still get the head shape dimension and a masculine look." Sierras' company colleague Stacia Kelley agrees, but warns against cutting to the point where the wave isn't as evident. "The longer the hair, the better the curl breaks out—and the curls bring the girls!" she says.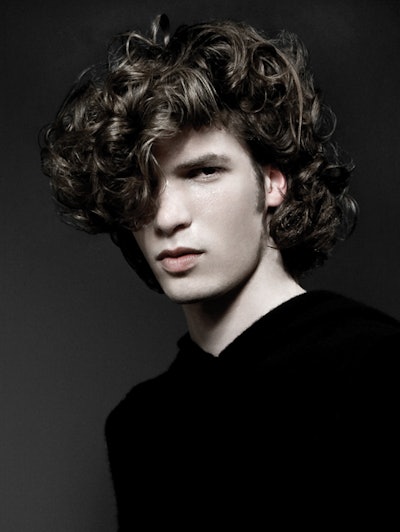 Bringing It Home
You haven't done your job as a stylist if your client leaves your chair not knowing how to care for his hair at home. The curls may happen naturally but the care and maintenance knowledge doesn't. So, before he walks out the door, make sure you've shared a few instructions. Zermeno, for instance, is adamant about not over-shampooing. "I tell curly-haired clients not to wash their hair every day because that strips the natural oils that keep hair from becoming dry, frizzy and unruly," he says. "They must maintain moisture for the prime curl look."
RELATED: King of Curls at Thaddeus O'Neil
Other curl-caring tips to share with clients:
• Look for moisturizing hair care products, such as those containing shea butter or plant oils to help fight off frizz.
• A lock-in conditioner can help create a barrier to protect curls from the effects of the environmental elements, such as humidity and wind.
• Consider a weekly mask to nourish the hair.
• Avoid towel-drying too vigorously—press the towel against the hair instead.
• Avoid heat styling, but if blow-drying hair use a diffuser to evenly disperse airflow.
• Use a light-to-medium hold styling product, such as a cream or paste, to accentuate curls.
• Use your fingers when styling hair, instead of a conventional comb.
[Images: Top courtesy of Jon Kopaloff, bottom courtesy of Andis]