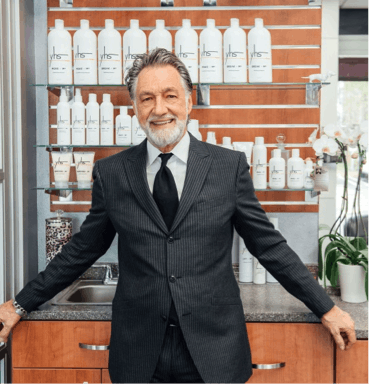 Alan Benfield Bush shares his personal and professional tips for salon retail success. He has recently created and launched YHS ~ Your Haircare System with an innovative new set of multi-purpose professional haircolor enhancers, conditioners, shine therapies, styling and texturizing products. Pronounced "Yes"; the YHS Haircare System is moving forward with the new times and with the newest special ingredients. 
Professional salon retail sales are much more important than we have realized. Over the past 30 to 40 years, salon owners and hair designers have gradually been losing billions of sales dollars because professional products became so readily available over the counter at retail outlets. As an industry, we should pay more attention to selling products that only go through salons and their hairstylists. We must remember that we are the professionals that should and must present personally prescribed professional products to our clients. After all, 95% of clients will take our prescriptions to heart.
As many product lines grow, they need their numbers to go up and the opportunity arrives when they decide to go over the counter in retail outlets. We should be very proud of what we did for them by introducing their products to our clients. We must now take the same opportunity and take on a new up and coming product line that sells only through the industry and not over the counter, so that we have new things to talk about just as all the big product lines were started by successful hairdressers in the back-room dispensary in barber shops and hair salons. So, let's get excited about the newest and most innovative new products that allow hair designers to offer the very best salon services to our clients. We must recognize that most every professional haircare product system was initiated by successful hairstylists. It is now time for us to bring back the retail sales to us, the hair designer. Here are some tips that may help you.
Retail Consultations: Ask your client a series of simple questions: "How has the condition of your hair been?", "Did you use the products I prescribed for you?" and "Has your hair been easy to take care of?" Take time to listen. Analyze their responses, while reviewing the benefits and features to meet each of their haircare needs.
Don't Sell - Educate!  Do not talk about the products until you get to the back where you will be using them even if the client asks about them. Then, make sure to discuss the products as you use them. Tell the client you will explain later, while not taking control of your time. Educate your clients on the benefits and features of each product as well as how to properly use them at home between salon visits.  Build an enthusiastic attitude towards them experiencing the product.  You should say, "I guarantee your new hair design if you use these products that I recommend." Also, educate your clients on how to achieve multiple looks with styling products.
Review: At the end of each appointment, ask, "Do you like your new hair design?" She says "Yes!" Then, put 2 to 3 of your recommended products in her hands. If you recommended 4, 5 or more than she can carry, help her take them to the reception desk. Then, line up the prescribed products facing her at the reception desk, so she can purchase the haircare system and say, "Please book your next appointment now as I'm getting very, very busy."
Retail Displays: We should display the products we are using on our clients. Your shelves need to be fully stocked with mass merchandise like a distribution center.  No one wants to take products from a display to spoil the look or to take the last products.
Professional Products: Every salon should carry 3 to 4 professional haircare product systems that are sold 'exclusively' through their salons by licensed hair designers.  You should consider 2 to 3 haircolor lines. You need to select lines that offer professional education. Do not show the brand name of the color on the swatch books. Never share your haircare formulas with clients; sell them on you, your integrity and your prescribed solutions for their haircare needs.
Your Haircare System:  Bush notes. "Hairdressers really should make a larger percentage of profit from retail sales with incentives to make the products worthy of recommendation." Each salon owner and hair designer should be keenly aware of the beneficial long-term impact; if you sell to 90% of your clients retail it will pay for your car payment, mortgage or rent, that's how important retail sales are. It really is now time for us to come together as one by only selling products through us and to become as green as possible while meeting the needs of every salon professional and their valued clients."
--Alan Benfield Bush
For more information visit YHS Haircare.