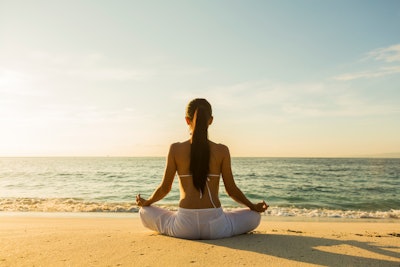 Every day at the salon we give a lot… A LOT!  It's not just an artistic output; it's also a spiritual, emotional and intellectual gift that we offer each guest in our salon. And let's be honest here, in the face of all the recent current events, more and more of us are providing a sounding board for the fears, frustrations and challenges that come along with daily life. This can be heavy to say the very least. Some days, it's downright depleting and we can leave the salon with nothing left to give. A universal truth is that you cannot offer someone else something that you don't have, so finding a way to refuel your depleted tank of love, energy, inspiration and support is crucial to your happiness as much as the success of your career! It's not just your clients that need you to be full. Your family needs you to be full, your friends need you to be full, and most importantly, YOU need you to be full. You live in the same daily world as all of our guests, so you are having the same experiences… you are there for them, now, who is there for you?
So how do we refuel? It depends on what type of gas you need! One of the greatest qualities of the human race is our unique way that we all respond to experience. A walk in the forest may be the perfect medicine for one person but leave the next person tired and itchy! An hour of meditation or yoga may bring peace, relaxation and spiritual connection to some, while others get anxious just by the thought of sitting still for 5 minutes or even attempting something called downward facing dog pose.  
Here are some starting points… the details are up to you:
Make the time - Time isn't going to all of the sudden stop and just allow a space for you take the yoga class, hit the gym, or cook an incredible dinner for you and your favorite person. You must design your life in a way that the time to refuel has as much priority as any other hour of your day. Start with a bite size chunk… even 10-20 minutes of doing something you enjoy has been proven to alter a person's nervous system.
Let in more inspiration, shut out the negativity – Turn the evening news off and play a board game with your kids or have a date with that friend that makes you laugh till you cry. Go to a lecture by someone that brings out the fire within you. Let go of relationships that take, take, take and never offer anything in return (at least your clients are paying you!).
Inspiration on the skill side - Sometimes being a teacher means constantly reinventing and changing yourself. Don't resist change - contribute to it! Imagine yourself 5 years from today. Where will you be? What work will you be doing? Once you have that vision in mind, consider this question: Will you be satisfied 5 years from today if you are doing the same job you are doing now, with the same level of skill and expertise, and earning the same amount you do today?
There is no right or wrong answer. But, most people would answer 'no' to the above question. Why? Because most people like to think that day by day they're making progress toward something – that they have enhanced their skills or contribution. People often resent change when they have no involvement in how it should be implemented. People don't resist change, they resist being controlled. Determine the role you want change to play in your life and work. Change is a gift, something we need and should not avoid. Just as we breathe, so must we change and adapt to a world that demands alternatives.
When we take the time to refuel we have the opportunity to create change. With change comes growth, improvement, discovery, and adventure. Without change we limit ourselves – physically, mentally, emotionally and spiritually. With change, we are given the chance to turn today's pains into tomorrow's gains. Choose change, and make a different connection in life!
Refuel by taking risks to gain insight.
Refuel by taking responsibility to achieve freedom. 
Refuel by taking the initiative to create opportunity.
Remember, the best and most beautiful things in the world are achieved with passion, so together let's continue to refuel our passion.
Aspire for More!
--Sam
[Image: Getty Images]