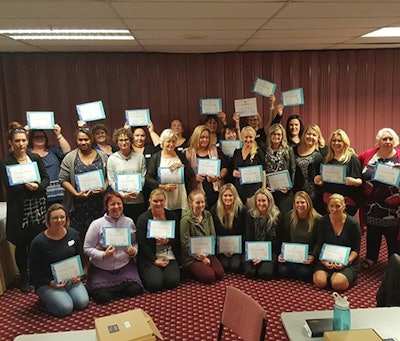 International Nail Manufacturers (INM) takes education seriously, especially in places like New Zealand where few extended education courses are offered. Nail technology programs in general are very scarce in the country, so as a result, INM distributors NAILX and Nails Plus requested that the brand help organize a few workshops this past May.
Mindy Hardy accompanied INM President, Garret Kellenberger, and Education/Social Media Manager, Pamela Mares, to teach during the two INM educator training sessions. These sessions, held in Christchurch and Tauranga, focused on product knowledge, as well as technique and nail art.
Three open-day trainings -- held in Christchurch (NAILX Training), Tauranga (Nails Plus Training) and Auckland (NAILX Training) -- featured a blend of application, technique and a lot of nail art. Attendees learned techniques to enhance their skills in acrylic foundation, gel application and design, hand-painting, sharpie art, and acrylic art, including 3D flowers, folded bows, the "mermaid effect," French fade, and encapsulation. The response was overwhelmingly positive, and attendees left each training feeling knowledgeable, fueled and inspired.
For more information on INM, please visit inmnails.com.