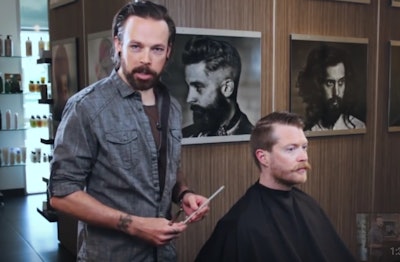 One of the hottest Google search topics in the past couple of years has been men's barbering techniques. The barbering trend suddenly came alive again and it's been great for our industry.  But let's be honest, men don't tend to accept change very easily in fashion or grooming, it takes them awhile to buy into it.  To complicate this resistance even more, in the eyes of a large portion of our daily clientele, social media has become the chosen prophet of trends rather than the runways and fashion magazines. Whatever receives the most "Likes" and "Shares" is continually reposted, creating a sort of vortex of fashion redundancy.  That being said, as we venture deeper into 2016 there are some pivotal shifts in men's hairdressing, so I turned to Andrew Carruthers, Director of Education for Sam Villa, for insight.
Andrew: "Probably the most significant shift is messy is back!  Yes, the Barber Shop craze is still in full swing, but even those incredibly crafted cuts are being finished in natural textures with wispy lived-in ends versus the perfectly blow dried and pomade slicked polish.  The undercut continues to sit at the top of the menu within the salon as well, however, the tops are even longer and shaggier while the sides are evolving from the mechanical precision of a clipper to a more rough texture. Try working shear over comb with a blending shear versus a straight shear to achieve a raw finish on super short hair. The Sam Villa Signature Series Reversible Blending Shear and Artist Series Handle Comb are an excellent combo for this exact purpose. 
As the 90's make their first big resurgence into the world of style, grunge is the major player and there is a movement towards longer, unkempt, Kurt Cobain inspired shapes.  An interesting twist is also the restoration of simplicity!  Due to the dramatic detachments and wild variations in lengths within many trend-based haircuts in recent years, an obvious natural progression is back to fundamentals like the crew cut.  Of course we aren't suggesting your grandpa's military cut…again, the key to keeping things current is texture.  Work with point cutting, razor cutting, or blending shear over comb to infuse a classic shape with a fresh appeal."
The masculine aesthetic has always been a slow moving machine, but you can wake up your clientele with strong shifts towards highly textured finishes or even a reunion with a classic shape remixed with a new attitude.  Reestablish yourself as a resource for trend reports in the minds of your guests by sharing new discoveries and suggesting fresh approaches with confidence!  Post images on social media to create awareness that you offer men's services and create a look book that reflects the work you have to offer. Men come in more often and are statistically more loyal for longer periods of time than our female guests, so it's well worth the effort to put emphasis on men's grooming. 
Always prebook – you don't need to wait for them to ask, offer up a date and time and get it done. Male guests appreciate a direct approach.
Teach, teach, teach!  A sure way to ensure a guy will be hooked for life is to become their go-to image consultant. Educate them on trends, how to style their hair at home, and what products they need to recreate the look.
Have the courage to talk about the sensitive subject of thinning hair. They know it's happening, they need solutions, but are probably not comfortable bringing up the topic. 
Offer complimentary clean ups between appointments. It only takes a few minutes and adds massive value to the service.
Add a steamed facial towel to the shampoo and conditioning massage… again, it takes very little extra time and adds value.
Aspire for More!
Sam