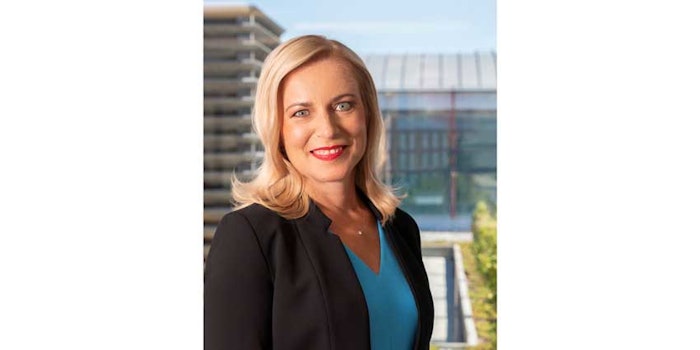 Sylvie Moreau
Exclusive! Coty Professional's outgoing president Sylvie Moreau (Annie Young-Scrivner will step in as the new CEO of the Wella Company effective upon close of the transaction between KKR and Coty) reflects on the current state of the professional beauty industry—where it is, where it's going, and lessons learned.  
1. What have you learned during your tenure in the pro-beauty industry?
My twelve years dedicated to the professional beauty industry have exposed me to some of the most passionate and committed individuals in probably my entire career. And it's within that environment that I had the chance to really understand that passion happens without success, but true success never happens without passion. This is evident when I look at the many hairdressers and nail artists who we've had the chance to see grow and excel in partnership with our brands and educators.
The second lesson, which was reinforced, was the immense power of having the right team. Very early on in my career, I recognized the power of developing people as THE way to achieving business goals and sustainable results. I have been and I still am deliberate to surround myself with an outstanding and diverse group of people, and to coach my team so they "thrive." I believe you rise by lifting others! 
Last important lesson: See challenges and failures as learnings. Our brands (Wella, OPI, Nioxin, ghd and others) come with strong founders and entrepreneurial heritage, and that's the mentality that we are trying to maintain in the company. The secret we've learnt from our founders is to fail small, fail fast, create something better and keep moving. For example, a few years ago we postponed a very important launch of a new hair color range, as the marketing and commercial proposition didn't talk to hairdressers or their clients. It was painful to make this decision at the time but on the other hand, a few months later, we had reworked the plot into a fantastic proposition that became hugely successful five years on. Today, Wella Professionals Illumina Color is a brand that keeps on growing and is one of our jewels. 
2. How has the pro-beauty landscape shifted since COVID-19, and what do you feel are the long-term effects on the industry?
There's no doubt that the pandemic will likely leave a profound and lasting impact not just on the economy, but also on the society. The habit changes we've seen will have a long-term influence on how our industry operates. On one hand, the status quo has been challenged; on the other hand, this represents an opportunity for our business and for the industry. The key will be adapting quickly. 
 The dynamics we have noticed are the following: 
Consumer confidence has been declining. Health concerns overlap with financial uncertainty.  
With less socialization there are less reasons for clients to keep up with their usual beauty routines. During salon closure, consumers took their time to rethink the priorities; a portion of salon clients had to switch to home coloring, and some started embracing their natural gray hair. But on the other hand, at home self-pampering with beauty treatments or hair masks is surging, which represents an opportunity.
Stylists had to adapt to the new reality. Some have switched to mobile at-home hairdressing, while others have extended their opening hours. Some of our customers started selling at-home color kits to their clients. Through social media and technology, stylists and hairdressers have been upskilling on ways to keep in better touch with their client base–bringing to life "digital salons," and developing skill sets with online media that will serve them well in the future. Successful are those who understand consumer habits and adapt accordingly.
But this recession is not the first and our industry has recovered from the big hits before. 
There are core pillars that always helped stylists and brands overcome the challenges:   
First of all, professional beauty is built on human relationships; and they matter even more in the times of uncertainty. Stylists tell us that what motivates them today is the excitement of seeing their clients again. And we heard the same from clients; that "going back to salon" was mentioned as the key planned activity post-lockdown. Even ahead of family get-togethers!
Secondly, one of the most important trends I've picked up on during the initial lockdown was the rediscovery of the true value of beauty professionals. Salon clients had an opportunity to newly appreciate the work and talent of their stylists in the moment that they weren't able to see them anymore. The value of this profession's artistry and craftmanship is being appreciated, and the salon experience, built also on the human connection and sense of trust between the stylists and clients, has proven yet again to be irreplaceable. 
I feel optimistic about the future of our professional industry. "Beauty is a promise of happiness," as the French writer Stendhal rightly said. Today, people need to feel confident and positive more than before. We professionals are the ones to meet these needs, and going back to our industry's core fundamentals will help us navigate through such unprecedented times.  
3. How can brands offer proper support to stylists during this time and moving forward?
Since the start of this crisis we have made our best efforts to support our industry and our most vulnerable partners, such as independents and small businesses, in every way possible. Through these exceptional efforts, including payment relief targeted to the smallest of our customers, we have been able to support an estimated 100,000 industry partners around the world. Our teams in North America have put in place a $200,000 fund through Hairdressers at Heart, part of a total $650,000 COVID-19 industry relief package. We have also supported our communities fighting the fight: Our teams have donated to medical staff and health care workers around the world about half a million pairs of gloves and several tons of hydro-alcoholic hand sanitizer.
At the reopening of salons, we supported our partners' restart with a strong consumer campaign "But, First Hair," celebrating hairdressers and their craft. Finally, during the first two months post-lockdown, our #ReopenWithWella Support Plan reached nearly 300,000 salons and hairdressers, offering them valuable tools and advice as they prepare to receive clients again. We have retrained and equipped our sales and education team members with back-to-the-chair practical tools, including a 10-power-step salon "Perfect Restart" toolbox designed to help salons reboot quickly and in a sustainable way. As industry captains, we view it as our responsibility to support not only our dear customers, but the industry as a whole, so we are also making available #ReopenWithWella tools online to any and every hairdresser and salon. 
Moving forward, we are as committed as ever to the success of the more than 250,000 hair and nail salons we serve globally, through a strong combination of leading innovation, inspiration, salon value creation and education.
4. Where do you see the future of the Wella Professionals brand, specifically?
We're evolving in several ways, which I can boil down into three key topics. First, we have undergone a dramatic digital transformation. The concept of family and community has always been important to Wella over the years, but what has changed is that this community is now largely connected via social media and we've built a system around this evolution, which has led Wella to have the largest audience on Instagram of any professional hair color brand globally. We've also given the opportunity to stylists to be trained online, for example, with our new Master Color Expert Online course. 
We have also continued our focus on developing and launching premium products but with a new level of speed and intensity of responding to trends, with offerings such as BlondorPlex and ColorFresh Mask, along with the introduction of products and services that enable stylists to set themselves apart from competition while still being on trend—for example,  with our recently introduced Luxelights service. 
Lastly, in the past years we've also been more experimental. Seeking to push boundaries we've explored new technologies that have the potential to revolutionize the salon experience. The Smart Mirror and Color DJ are certainly part of this development. 
Creating value and elevating the hairdressing industry globally is at the heart of Wella Professionals' mission to "Make Change."