Our 8th annual 30 Under 30 spotlight highlights the next generation of colorists — all under age 30 — who are poised to take their careers to the next level. Hailing from coast to coast and different countries, these color experts comprise an eclectic 2020 crew. We learned about their lives and hue loves, who motivates and what inspires them, how they got started and where they hope to go. Justine Landfried (@thefaithfulblonde) is 23 years old and a blonding specialist at Loft at 538 in Fitchburg, Massachusetts.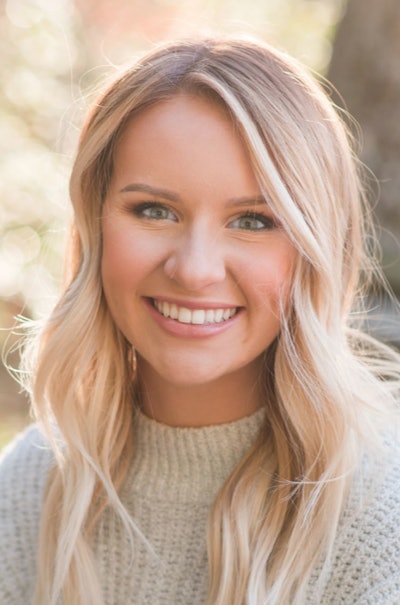 What inspired you to become a colorist? 
Growing up my parents encouraged me to "be the change I wanted to see." I love the natural beauty of life and I make it a point to go looking for joy in any and every situation. Being behind the chair has given me the opportunity to share my joy with others. There is nothing I love more than seeing my client look in the mirror and smile! That smile is what inspires me to be a colorist. It's like a light bulb turns on inside their mind when they realize just how beautiful they really are. My goal has been to naturally enhance the beautiful hair they've been given and my clients learn to embrace the end result with so much confidence. Making the world a more beautiful place one smile and appointment at a time is what keeps me motivated to keep doing what I'm doing.
What are your goals? 
Right now my goal is to start working towards making a successful YouTube channel so I can share with others my knowledge and love of hair with others. One thing that I really hope to achieve is to be sponsored by a hair color company and work side by side creating beautiful hair to help inspire others!
What do you love most about being a colorist? 
I love making people feel beautiful. Being a colorist is where I find much joy in making sometimes subtle, and other times much more dramatic, changes by using different techniques to enhance the natural beauty already inherent within every client. With hair color you have the power to enhance someone's best features. 
Who would you consider to be your mentor/role model, and why? 
Hands down, my mom! She is the strongest, most faithful woman I have ever met. She has supported me in the challenges I've faced. She has been a source of encouragement and motivation to become the individual I am today and to keep working towards being the stylist I hope to be. She is my best friend! Being a hairstylist requires creativity, charisma, altruism, etc. By example, my mom has shared this all of those traits with me.
What's your favorite color trend/technique of the moment?
I love the lived-in, balayage look. You are able to create a wide rage of color with it, making it possible to customize it to any client. It is such a great tool to enhance someone's best features, i.e. facial structure, eyes, skin tone, etc. It's effortless and yet so beautiful with the natural grown-out look. This allows the client to be able to go however long she wants in between appointments too, while still feeling beautiful. It will always and forever be my favorite.
Who or what inspires your color work?
I spend a lot of time out in nature. I believe with all my heart that nature reveals the nature of the Creator. It is most inspiring. Nothing compares to the natural beauty I see there. Balayage techniques enable me to enhance the natural beauty that lies within every client. As for who, Amy Mcmanus (@camouflageandbalayge). She sees hair like no one else does. She is hardworking and the most dedicated artist I know. Ashlee Allen (@aaashleee) is the definition of an artist. The way she visualizes color and then places it on the hair is true art. And Kelly Massias (@kellymassiashair)—her work is so organic. I love how she places light and depth in hair to create something soft yet so dynamic
What makes you most proud to be part of this industry?
Acceptance. The beauty industry is an art industry. This industry allows you to be any kind of artist you want to be and that artist is defined by personality and skill. We are all artists who have the same passion: Making others simply feel more beautiful. Doing hair is when creativity flows through me to my clients. They are my canvas. As each appointment winds down and it's finally time to turn my client back around to find their very own reflection smiling back at them for feeling even more beautiful than they may have realized they already were when they first arrived—it's all very rewarding. I take great pride in a job well done. And I know I've done well when a client leaves the salon smiling, because I know then that their whole world will smile back at them too. That is when I'm most proud to work in this industry.