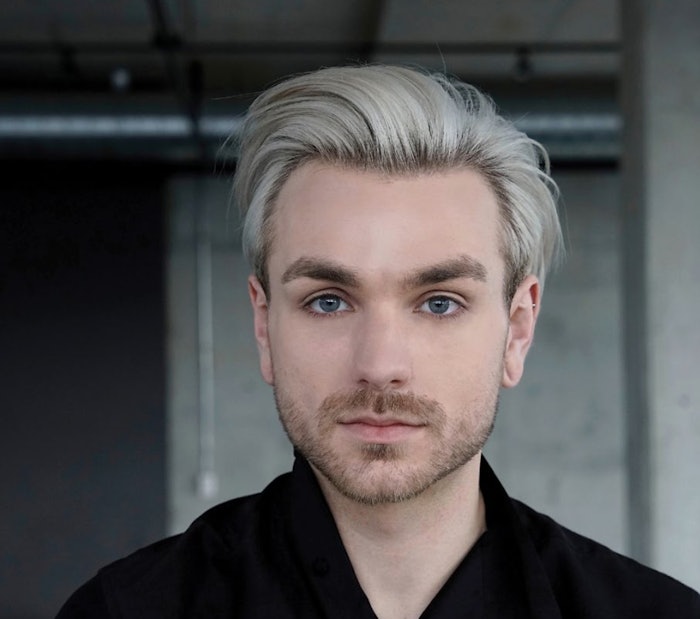 Our 8th annual 30 Under 30 spotlight highlights the next generation of colorists — all under age 30 — who are poised to take their careers to the next level. Hailing from coast to coast and different countries, these color experts comprise an eclectic 2020 crew. We learned about their lives and hue loves, who motivates and what inspires them, how they got started and where they hope to go. Connor Lange (@connorlangehair), 29 years old, works as a Goldwell master colorist at Bob + Paige Salon in Toronto, Canada. Oh, and he may just cut Dan Levy's hair on the regular, too.
What inspired you to become a colorist?
Growing up I was always creating something with my hands—whether it was drawing, painting, or baking—so I knew I needed to have a career that allowed me to be creative regularly and fulfilled as an artist. As a teenager I started to experiment with hair color on myself and my friends, which led to me doing my high school co-op placement in the salon that I ultimately apprenticed in, and the rest is history!
What are your goals?
I feel my answer to this changes, which is the best part about this career. You are able to work in-salon, educate, work for TV and film, etc. You are never bored. I would like to get into doing more editorial and photo work. The eye involved is so crucial and in this digital age photos are so important. The world is opening up to more hair color now so we can have even more fun with it.
What do you love most about being a colorist?
Being a colorist allows me to tap into both sides of my brain. I didn't realize how much I love science until I was able to apply it to hair color! That, mixed with the creativity of application, keeps me excited for each and every client.
What career accomplishment are you most proud of so far?
In 2018 I competed representing Canada in the Goldwell Colorzoom Challenge. It was a pretty surreal experience to be the most stressed you've ever been but also be surrounded and supported by your favorite people!
Who would you consider to be your mentor/role model, and why?
With social media, you're able to have endless inspiration every day at your fingertips. I follow some for their color work, some for business advice and some for their puppies! I am fortunate enough to have friends who have been incredibly successful in this industry as colorists and hairstylists that I look up to every single day.
Please share your top hair color tip.
I feel I say this in every class I teach with Goldwell, but my biggest piece of advice is this: Speed up by slowing down! If you take your time the first time, and do things cleanly and correctly, you won't have to spend so much time fixing and correcting in the applications to come. And proper home care is key! I cannot stress that enough. Take the time to get to know your products so your clients can maintain your beautiful work.
What's your favorite color trend/technique of the moment?
I'm loving the refined direction that our once bright, pure tones are taking. They have a softness to them that lets them be incorporated into a natural canvas base if you so choose, so more clients are willing to add it into their palette!
What makes you most proud to be part of this industry?
As much as this career has the potential to make everyone in it extremely competitive, it truly is not. It is incredibly supportive, even if you are competing against one another in a competition. I have made some lifelong friends through classes, shows and events and I wouldn't change this career for anything!