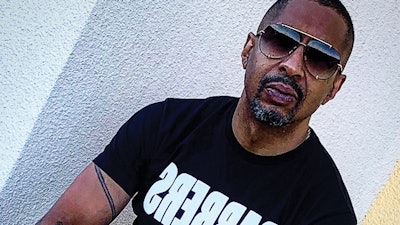 Compton, California-based barber Donald "DC" Conley combines his knowledge as a long-time educator and passion for making a difference to open Barberizm The Shoppe.
What made you pursue barbering?
While I was working as an administrative assistant for one of the largest banks in California, I realized that working for someone else would never help me to fulfill my dreams of financial independence, so I took a leap of faith and enrolled in barber school.
What's the best part of the job?
Connecting with people. Barbering is a way to impact others daily—whether it's getting a younger client ready for school or grooming an adult for a potential life- changing event.
Biggest lesson learned in your career?
The biggest lesson I continue learning in my career is that we're all still learning. Some people are learning to perfect their technical skills while others are finding ways to balance their business and personal life. Comparing yourself to anyone other than the person in the mirror is a surefire way to self-minimize what you've already accomplished and can even stifle future potential.
What's your role with Andis, and how did you become involved with the brand?
I've been a national educator for Andis since early 2017, but I'd worked with the company for several years prior in different capacities. I began by offering free clipper classes to barber and cosmetology schools in my area, then I started offering my services at the Andis booth for different hair shows, which eventually led to my brief stint as a sales representative for the brand. Shortly after, I was chosen as an official educator in the Andis class of 2017. My job is to inspire others to invest in the best tools for their professional needs.
You were recently given a scholarship from Schedulicity, and mentioned using that money to create a safe space for children— could you please share more details?
Growing up in Compton, I witnessed events as a youngster that many would consider traumatic. As a barber, connecting with the community is a part of the daily experience. When I opened Barberizm The Shoppe, the focus was to bring an air of high-end to the city I love so dearly. Not only is this important for my adult clientele, but perhaps even more important for the younger crowd. We provide a kids' area and even painted on the wall that the space is a "no fussin' or cussin'" zone. We provide gaming systems, an area to do homework, toys and learning games for all ages and genders. After I opened my doors, staying connected through online booking was a major concern. After thorough research, I chose to join Schedulicity because of the amazing features the software provides, and shortly after, the brand announced a barber and cosmetologist grant of five thousand dollars. Oftentimes entrepreneurs will have a vision, but then realize that the vision and budget aren't in the same stratosphere. This was the case for me, and upon winning the grant last May, I was able to finish not only the "Kid Zone," but also fine-tune the aesthetic of the space.
—as told to Ashley Rosario
[Image: Courtesy of Donald "DC" Conley]