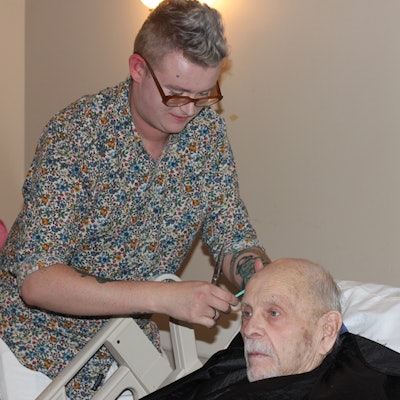 Joey Lane isn't your typical hairstylist working behind the chair at a salon. Instead, the hospice hairdresser travels to see his clients, who are patients at the Hospice of the Golden Isles in Brunswick, Georgia. We checked in with Lane to find out how he merged his love of hair with healthcare to launch Tender Love & Hair, bringing joy and lifting the spirits of patients near the end of their lives, when they truly need it the most.
How did you start your journey in the beauty industry?
I grew up as an eccentric kid in an extremely rural, small town in Southeast Georgia, so I always felt like a square peg in a round hole. I never quite felt safe or comfortable expressing myself as an individual until high school, when I first took the plunge and colored my hair funky colors in my bathroom. Graduating as valedictorian, I felt obligated to go to university after high school, but I only made it one semester before I dropped out, depressed and unsure of my place in the world. It was then that I made the unpopular decision to go to hair school, and it changed my life more than I ever expected. I've been licensed for going on five years now, but I stepped away from the salon chair full time last year to start this new journey that combines two of my biggest passions: healthcare and hairdressing.
How did you begin specializing in treating patients in hospice care?
I went through a certified nursing assistant program while I was in high school and had to do clinical hours at a nursing home. I saw that a lot of these residents just wanted someone to talk to—a friend. A good bit of our personal identity is tied up in our hair, and I noticed that haircare in these facilities was a great need. My experiences as a certified nursing assistant stuck with me as a hairdresser in the salon, and I ultimately made the decision to combine my two passions by returning to college to pursue a degree in a healthcare role. There are so many people who are underrepresented and forgotten about during what can be the scariest time in their lives, so I decided to do something about it while working on my degree. I felt the need to reach out to my local hospice facility, the Hospice of the Golden Isles, and that's how Tender Love & Hair was born.
What's it like working with patients in hospice?
While the nature of end-of-life care is often heavy and emotional, I've experienced far more light and hope in those doors than possibly any other place I've been. Little things that you would never think about in the salon, such as having a client sit upright in a chair, become a challenge. While it can seem intimidating at first, it's incredibly humbling and humanizing, and I'm able to figure out ways to accommodate.
Are there any special tools you keep in your kit when working with your client patients?
One of the most genius kit items for me at hospice is no- rinse shampoo caps. I warm them up in the microwave, put them on the patient's head, massage the cap and they're good to go! Another go-to is my mini flat iron. It enables me to create that signature "bump" on shorter hairstyles while minimizing the risk of burns for patients who may suddenly move during styling.
What's the best part of the work you do?
By far, the best part about what I do is interacting with the patients. I hear their stories, and we become friends. Being able to bring them any bit of happiness, no matter how small, is a privilege and an honor.
How can other stylists get involved?
There's such a need for haircare in long-term care and hospice facilities around the country, and sadly, this population is greatly underserved. To get involved, reach out to your local hospice facility to inquire about volunteering, or donate to existing programs that help serve this population. You may go into a hospice facility expecting to change lives, but you'll probably realize that you'll be the one whose life is changed for the better. If you're interested in donating to Tender Love & Hair, please visit the Hospice of the Golden Isles at hospice.me.
[Images: Courtesy of Joey Lane]
This story first appeared in the December issue of Beauty Launchpad. To receive the magazine, click here to subscribe.