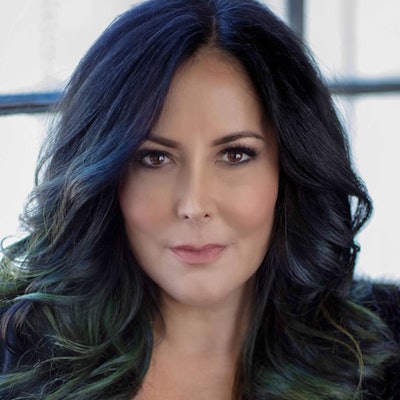 For Michelle Rath, a simple lash extension course turned into a life–and industry–changing endeavor.
When Michelle Rath, owner and founder of Sinful Lashes, started lashing, she thought it would be a fun part-time hustle. Less than 30 days in business, she was fully booked and had her sights set on much more than her 10-by-10- foot studio. Here, Rath talks about how she transformed Sinful Lashes from a salon into an educational center and retail store for professional lash artists.
How did you get your start in lashes?
I'd been working in the entertainment industry and was exhausted. While at a party, a friend asked what I really liked doing. I said that I liked working with tiny little things. A few weeks later I saw an ad for an eyelash extension course, and a light bulb went off: a career working with tiny little things! I took my first class in October 2011 and opened my first location in December 2012. I was fully booked in my first 30 days and I was working 40 to 50 hours each week. After six months, I hired and trained my first employee, and within 30 days she was booked full time. In my second year I rented another room and hired three more people. We worked six days a week, from 7 a.m. to 11 at night. I fell in love with this business from day one. The ability to be my own boss and do what I loved was—is—such a joy.
RELATED: Lash Marketing for Newbies
How did you go from lash artist to product manufacturer and educator?
It's been a whirlwind of growth—I don't think I slept for the first three years! Essentially, I saw a need for training that went into much more detail than I had received. And when I looked at the range and quality of products available at that time, I knew I needed to launch a product line. After opening our salon and academy location in 2013, the focus of my business shifted from services to education and products. We still perform services, but on a much smaller scale. Now, I travel the globe training and speaking at conferences. We've trained more than 1,000 artists to date, and we have a new training center opening in August. Our retail store is open six days a week, and we have corporate offices that house our products to ship globally.
What's your most unique offering?
I recently designed a series of celebrity lash maps. We teach this mapping as part of our Mega Volume class for advanced artists. They're designed to be replicas of your favorite celebrity lashes, but the beauty of them is that they can be worn two ways. Clients can wear them fluffy for a daytime look, or if they add our Sinful Sealant (our signature nutritional lash coating) to the tips, they can transform them into a dramatic lash set. Currently we have maps for Kim Kardashian West, Khloé Kardashian, Taylor Swift, Rihanna and Lady Gaga, with more maps of popular celebrities coming soon. We charge—and encourage our students to charge—a premium for this service because it provides two looks in one.
How do you keep your business fresh?
For one thing, our courses and manuals are updated every quarter. And we're constantly innovating our products. Right now we're working to bring the first truly cyanoacrylate- free adhesive to market—that's a huge step for this industry. Being able to offer clients who have a sensitivity to adhesive an alternative is something we've not yet been able to do.
RELATED: Policy Point - No Refills From Other Lash Artists
What advice can you offer new lashers trying to make it in this business?
If I could give one piece of advice, it's to think big. When I started, my plan was to perform lash services part-time. If I ever thought about growing into something more, I was always told that it would be impossible without loans or investors. I have grown my business into a multimillion dollar a year business without a single loan or an investor. I did it strategically, taking each step and growing it; I'd then reinvest the profits back into the business. If I can do it, so can you!
Must-Attend Event
Our Hollywood Lash Conference takes place every June, where we bring in the best global lash educators. Word on the street is that it's the largest conference in the world, with more than 160 international attendees. It's really a game-changer for lash artists.
Product Picks
We have a full line of luxury lash products, adhesives and tools, and we've just added lash-lifting products as well. I travel to the factories and customize and perfect every product we offer; it's a labor of love. Having luxury products at affordable prices ensures that our customers can charge a premium while making the most from every appointment.
Next Up
Our goal is to keep growing the business, but also to continue connecting with other artists in a meaningful way. That's the most rewarding part of what I do.
[Image: Courtesy of Sinful Lashes]