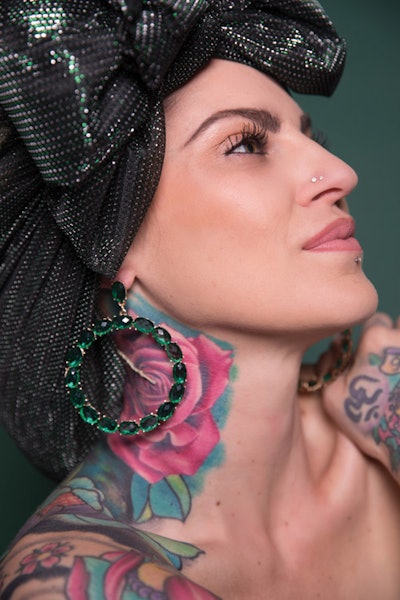 Hairtalk artistic director Vicki Casciola shares the meaning behind her tattoos. 
My body is my journal and my tattoos are my story. At 10 years old I already knew my purpose in life—I was meant to make people look good and feel better. Fast-forward to age 21 when I began my career in hairstyling, and though I had major self-motivation and discipline (courtesy of years spent in gymnastics), I was shy and insecure. I sought a way to express myself, and found my self-expression through the art of tattooing. I decided to create my canvas with meaningful elements that would reveal who I am to others, along with strategic placement that would also allow me to feel classy and feminine—for me, that translated to inking primarily one side of my body while keeping the other side pure and clean.
RELATED: Cosmoprof Artistic Team Member Philip Ring on the History of His Chest Tattoo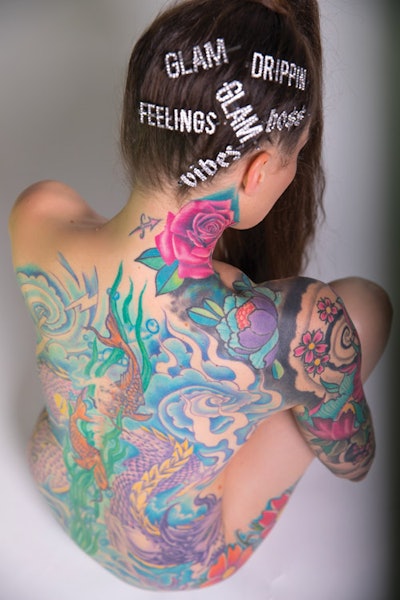 RELATED: ​Noogie Thai Shares the Deeper Meaning Behind His Tattoos
I had my first tattoos drawn onto my back and buttocks. Once those were complete, I experienced an unforgettable feeling of accomplishment. Each tattoo carries meaning. The purple she-dragon is powerful: She represents transition, and signified the perfect way to start my "forever" career and lifestyle. is dragon also represents my longevity and strength to conquer anything. The swimming koi fish symbolize my determination and bravery—I feel like I'm always swimming against the current. The lotus flowers on my arm remind me daily of the evolution of my soul over time. My final tattoo (completing my canvas!), the rose on my neck, symbolizes new beginnings after the loss of my grandfather, as well as perseverance over all the obstacles I've encountered; I can conquer anything.
—as told to Alyson Osterman-Kerr
[Image: Courtesy of Jessica Beltran]​
This story first appeared in the June issue of Beauty Launchpad magazine. To receive the magazine, click here to subscribe.