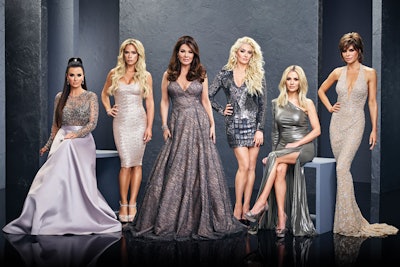 The stylists behind The Real Housewives of Beverly Hills stars Erika Jayne and Teddi Mellencamp get real about the rigors of hair built for reality television, collaborating looks and their favorite styles they dream up for two or reality's best coiffed stars.
Since The Real Housewives of Orange County first aired back in 2006, the reality powerhouse has spread to myriad cities—including Atlanta, Beverly Hills, Dallas, and New York—and has spawned multiple spin-offs. And with each passing season, leading ladies like Erika Jayne and Teddi Mellencamp have made a name for themselves, not just for their larger-than-life personalities, but for their diverse styling as well. With The Real Housewives of Beverly Hills's (RHOBH) highly anticipated ninth season approaching (season eight's Reunion Part 3 showdown drew in an astonishing 2.6 million viewers), there's certain to be more 'dos to view up-close in HD—but what goes in to styling coifs for the rigors and "realities" of reality television?
RELATED: Ones to Watch - The 20 Best New Hairstylists of 2019
Considering all Angles
It all starts with a plan of action—and taking into consideration how much detail viewers will be seeing. "Styling everyday hair can be easygoing and effortless, but when there are cameras capturing your client from each angle, it's important to remember three things: Does this style look good from all directions? Will the hairstyle hold up throughout the duration of the event? Is there movement?" notes celebrity stylist Castillo Bataille, who works on hair chameleon Erika Jayne.
That goes double for any type of added wefts; one wrong head nod or hair flip could reveal what's best kept hidden. "I use extensions on Teddi's hair and make it a priority that the extensions don't show when her hair moves or when the wind blows," says Laura Rugetti, owner of The BeautyCan in Los Angeles and stylist to RHOBH rookie Teddi Mellencamp. "A special trick I do to hide her extensions is using a root spray."
Real Consultations
Similar to styling clients at a salon, when collaborating on looks for the hit show, each day begins with a consultation. "Teddi will show me and her makeup artist, Alix Taylor, photos of looks that she likes," explains Rugetti. "Then we discuss how we can tailor her suggestions to Teddi's own personal style." Jayne entrusts and invites help from those closest to her. "Erika loves to have every look be a special moment, so everyone on the team brings ideas to the table," says Bataille. "In the end, it comes down to what Mikey Minden—Erika's ride-or-die [creative director]—and she think are the best."
RELATED: Dean Banowetz Offers Advice for Aspiring On-Set Stylists and Television Styling Tips
Teddi's Looks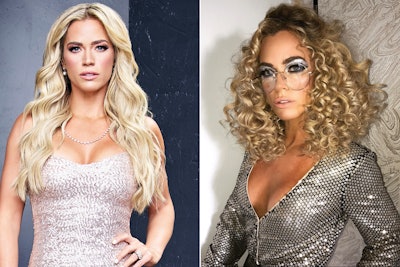 Teddi Mellencamp's chill vibe plays out in her beach waves, but from time to time, she'll pump up the luxe with looks that have cemented her as a reality hair star.
"I wanted to give Teddi's hair some glam! She's very laid-back and always has her hair in a pony because she works out all the time, so I wanted to give her big hair for her first 'main title' pictures," says Rugetti.
"For this '70s-inspired look for an episode where Teddi attends a costume party, I wanted to give her big, fun hair to match the theme," says Rugetti. "I used a 3 8-inch iron and curled every piece of hair. Then I teased her hair so it would look glamorous with her sequin dress."
Erika's Looks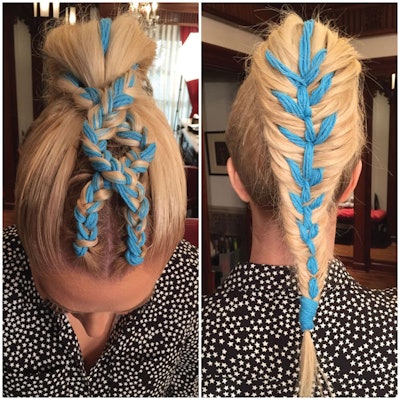 A natural-born performer, Erika Jayne thrives on using her hair as a defining part of whatever character she desires to play for taping–and has led the charge in reality hair as an art form.
"Erika and I love playing with fun hues, so this weaving technique is the perfect way to experiment with a pop of color," says Bataille. 
This story first appeared in the January issue of Beauty Launchpad magazine. To receive the magazine, click here to subscribe.
[Images: Bravo; Teddi's looks: Laura Rugetti, Bravo; Erika's looks: Castillo Bataille; Laura headshot: Matther Mardrosians; Castillo headshot: Sasha Sheldon]