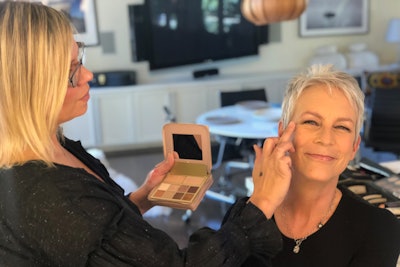 Once professional makeup artist Camille Clark discovered the power of strip lashes, it opened her eyes to a new career path. 
From red carpet to runway, editorial to advertising, makeup artist and beauty expert Camille Clark knows how to put on the glam. But for a pro who prides herself on enhancing a client's natural beauty—you won't see any cookie- cutter Instagram makeup looks in her portfolio—she is remarkably fond of lashes, and a partnership with iEnvy Professional was a natural next step. Here, Clark talks about what's in, what's out and what she loves about strip lashes.
How did you get started as a makeup artist?
I started saving my money in junior high to buy copies of Vogue and Cosmopolitan, and then I would try to copy the looks on all of my friends. When I was 18 I moved to Los Angeles and realized that being a makeup artist was a real job! Over the past 20 years I've been lucky enough to work with many high-profile and talented people.
How did you start working with iEnvy?
At one point, I worked in a salon and lashes were a big part of my business. When I started doing more red carpet and editorial work, I found lashes made the looks I was creating a little more special. I started working for iEnvy a couple of years ago at the Cosmoprof North America show, which led to Premiere Orlando, the International Salon and Spa Expo and others. I've found that I love doing demos and teaching people about lashes.
What are the pros of working with strip lashes?
They are quick to apply and you can achieve a really full and dramatic look easily. They're also great for period looks.
The cons?
They're not always comfortable to wear, especially the styles with thicker bands. Also, sometimes it can be tricky to get those inner corners to lay flat.
RELATED: How to Educate Your Eyelash Clients About Preventative Care
What are the most popular styles that you're seeing right now?
I'm loving the new V-Luxe Réal 3D Mink Lash collection by iEnvy. The Mermaid style is really beautiful and feathery. I always love individual lashes and customizing the look using different lengths and amounts of volume.
What styles have you seen enough of?
The "Instagram look" where every eye has the same formula. I think doing makeup to enhance someone's individual eye shape is a much better way to choose a lash style.
What's unique about iEnvy lashes?
The lashes are really great quality, plus there are so many amazing styles to choose from. They come in mink, silk, 100-percent virgin Remy hair and natural human hair. They have a style for every eye shape, and they're not outrageously expensive.
Any tips and tricks for working with strips?
I always measure and trim the lashes first to fit the eye perfectly. It's also important to choose the right glue and let it set properly before applying the lashes.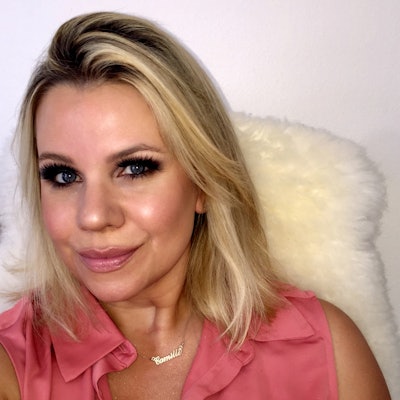 Inspiration
I love art and photography books and vintage magazines, like Italian Vogue. Plus, there are a few artists out there in particular who always inspire me: Val Garland, Llyod Simmonds and Kabuki, just to name a few. When it comes to doing makeup, it's always a collaboration and process. I never want to copy someone else's work directly, but I might be inspired by a look and then I'll interpret it in my own way.
RELATED: Safe Cleaners and Makeup Removers for New Eyelash Extensions
Go-To Tool
The iEnvy applicator tools are great. There's one for strip lashes and one for individuals.
Secret to Success
Perseverance. We all fail sometimes; that's life. But keep going and keep striving for the best you can be at your craft. Don't forget to have fun and enjoy your work—and don't take yourself too seriously!
[Images: courtesy of Camille Clark]