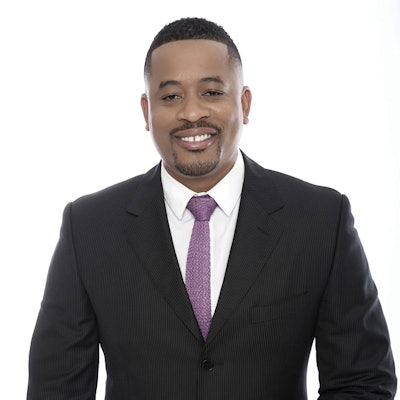 Adrian Fanus' story epitomizes the American Dream: With only $200 in his pocket, Fanus packed his bags, left his native country of St. Lucia and moved to the Big Apple to pursue his barbering dream. "After I bought my clippers, I only had $25 left," shares Fanus. He hit the ground running and in nine short years his leap of faith paid off. Not only did he become a sought- after celebrity groomer, he also opened Adrian Fanus Grooming (AFG) smack-dab in the middle of the 2009 recession. "Everyone thought I was crazy and that the shop was destined for failure, but I thought if I did a great job, then people would keep coming back," he says.
RELATED: Authenticity and Consistency Reign Supreme at V's Barbershop
Fanus first fell for clipping back in his hometown when he was just 16 years old. "I wanted to make people feel great about themselves, and I saw that through cutting hair I had the power to do that—it became infectious," he shares. The first order of business when creating AFG: to take a departure from typical male-dominated shops and spread that bliss to men and women looking for more than the ordinary shop experience, no matter their sexuality or skin color.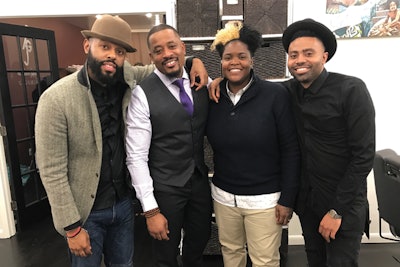 Blink and you'll likely walk right past AFG. Located on a third-floor walk-up above an apartment, Fanus chose the speakeasy-esque spot because it's off the beaten path. "When you have a storefront, the traffic is constantly flowing in and out," he explains. "[Here] clients can just zone out and escape the hustle and bustle of living in a metropolis." Before or after services patrons can kick back on the patio, play chess, watch TV, imbibe on an array of complimentary cocktails, read up on culture, or admire the framed editorial pieces of AFG's work and philanthropy efforts proudly displayed throughout the cozy lounge.
RELATED: Y-Chrome Barbershop is all About Providing The Whole Package
Clients can also rest assured that their time won't be wasted. An appointment-only policy guarantees groomers stay on schedule, while a whopping 60 lights (the 1,400-square-foot, five-chair oasis doubles as Fanus' photography studio) keeps their beard trims, seven-point shaves, mini-facials, color services, fades, taper cuts, mohawks, undercuts, Caesars, comb-overs, blow-outs and more on point. "We do it all! Our groomers are well-versed in all textures," notes Fanus.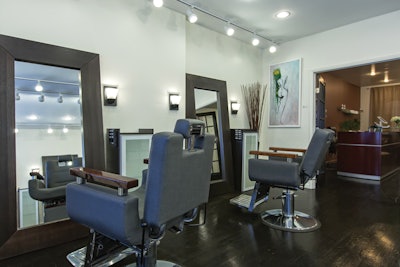 Though the team possesses off-the-hook cutting skills, they go by the moniker "groomer" because their services don't stop at hair. Also on the menu: freebie skincare, fashion, personal hygiene and job interview tips. When Fanus scouts new recruits, personality and energy take priority. "You can train someone to do a good job but you can't train them to be a nice person, so we look for people who can really add value to what we do," he says. Another essential: They must be team players. There's no shame—or competition—if guests want to pop from groomer to groomer. "We're not focused on getting someone into our chair, but rather getting them to come back," says Fanus. "Our philosophy: If you go alone, you go fast; if you go together, you go further."
[Images: Courtesy of Adrian Fanus Grooming]