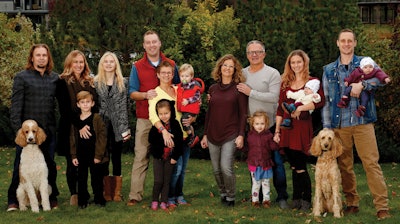 A third-generation hairstylist, Wayne Grund's first job in the industry came at the age of seven, when he began cleaning his father's barbershop. By 13, he was cutting hair; then in 1978, Grund and his wife Debra opened their first salon in the back corner of an auto body shop. They opened a second salon in 1982, and Grund shined at provincial and national cutting competitions, representing Canada at Hair World 1984. It was later in his career when Grund became aware of the tremendous amount of potential toxins in hair care products, and disappointed in the lack of quality performance from organic products, decide to create Surface Hair in 2008.
RELATED: Surface Founder Wayne Grund Talks Pure Color
The name "Surface" comes from the company's passion and commitment to developing all-natural products that respect personal health and the surface of the earth, and to create a strong surface of success from which salons and their guests can grow. "My family and I committed ourselves to developing the highest-performing professional products that completely respected personal health and the earth," he says. "Looking back, it was a major risk at age 50; however, I knew we would be successful." And just as family plays a big part in Grund's personal life, it also carries into the business as well: His wife Debra, who is CFO, manages the salon along with their daughter Jackie, who is also the VP of innovation; Jackie's husband Clay is VP of marketing; Grund's son Nathan is VP of Operations; and Nathan's wife Becca is VP of education. "We began as a family salon and remain a family salon, and now Surface is a family owned international manufacturing company," Grund explains. "The innovation of all Surface products begins in our salon. Surface is truly a family of hairdressers for hairdressers. I believe family simply cares more."
Now, 10 years later, the brand has expanded to five continents, its salon growth leadership team is 24 strong, and there are 120 educators on the artistic team. Next month will unveil the brand's latest innovation breakthrough, the CHAR hair and skin care product range, along with Pure Color launches that have yet to be announced. Also big on giving back, the brand supports 50 World Vision children, World Vision disaster relief, breast cancer research and forest restoration, with initiatives to build a fresh water well. "I feel extremely grateful—every day I pinch myself as I think I may be dreaming," says Grund. "Surface was established to provide products, education and support necessary for stylists to earn above average incomes and do so with products that respect their personal health and the earth. Our vision remains as strong today as it was in 2008, and we will continue to share Surface worldwide."
Road to Success
A timeline of Surface Hair's product innovation and education through the years:
2008 - Surface Hair launches and is dedicated to research and innovation of the natural ingredients necessary to provide the ultimate performance.
2009 - Myriad lines, including Awaken Therapeutic, Bassu Moisture, Trinity Color Care, Vegan Styling and Art Tools, are released.
2012 - Collections such as Awaken Styling, Shift Styling and Surface Men hit the market.
2013 - Surface Skin and Trinity Dry Shampoo are introduced.
2014 - Curls line is released.
2016 - Pure Blonde and Pure Color hit the masses.
2018 - Air-Lift, Awaken Scalp Elixir, CHAR and Pure Blonde Rose are the newest innovations to date.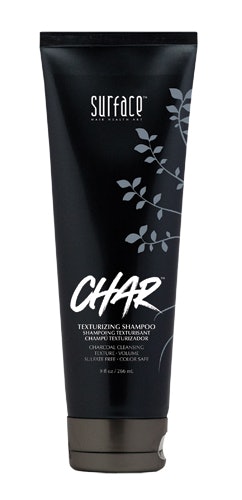 [Images: Courtesy of Surface Hair]