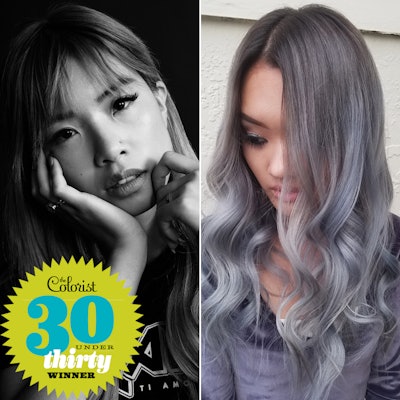 Every year, we honor 30 young colorists under 30 to find out what makes them so talented and successful. Get to know 2017 honoree Niki Nguyen in our interview with her:
Name: Niki Nguyen
Age: 24
Instagram: @Theniksters
Primary color line used: Schwarzkopf
Beauty school/location: San Jose, CA
Tell me a little bit about yourself:
have been an independent hair stylist since I was 19! I love traveling, dogs and all things Asian! I'm Vietnamese, and I like to blog! 
What inspired you to become a colorist?
My mom inspired me to do hair, and then I started color with Guy Tang then BESCENE! 
What are your goals?
My goals are to try to be the best hair stylist I can be for all of my clients. If I succeed in doing that, then I'm happy! I also want to one day travel to world doing hair! 
Any accomplishments so far in your career that you're particularly proud of?
I believe going to Germany and being able to collaborate with INDOLA was one of my proudest accomplishments! 
What are your hair color specialties?
Taking dark hair and turning it platinum, or turning my dark hair clients into a unicorn! 
What do you love most about being a colorist?
I love that every color I'm able to formulate is custom made by me! 
Who would you consider to be your mentors/role models, and why?
I consider my mom, and boyfriend Linh Phan as my mentors and role models because they push me to another level I never knew I could reach. They also both believe in me! 
Please share a hair color, prep or color care tip:
I really like to tell my clients to drench their hair in coconut oil the night before their appointment to really coat and protect the hair before I bleach it! 
What is your favorite color trend/technique of the moment?
My favorite would be silvers, and blush colors!