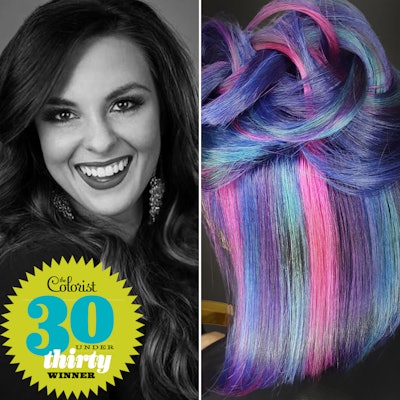 Every year, we honor 30 young colorists under 30 to find out what makes them so talented and successful. Get to know 2017 honoree Maggie O'Daniel in our interview with her:
Name: Maggie O'Daniel
Age: 29
Salon/company name; location:  Melissa's Hair Studio in Mcleansboro, Illinois
Title: Hair stylist, educator, International artist for Farouk Systems
Instagram: @maggieodaniel and @getcolorreal
Primary color line used: Farouk Systems ammonia-free color lines
Beauty school: Southern Illinois School of Cosmetology
Tell me a little bit about yourself:
I come from a very small, close-knit farming community. I've always loved to do hair and actually learned about my love for color after graduating from beauty school. I was afraid of it until I really understood the basics! Ironically, the town I live in doesn't have a ton of people that do fun, crazy colors, so a lot of the colorful work I do is for hair shows! 
What inspired you to become a colorist?
I've always loved to do hair! I can remember as a young girl going into the beauty shop, I always felt so relaxed and intrigued by the environment. I could have watched people do hair for hours then, and I still feel the same way. I love to watch people transform a look within minutes. It's instant gratification for me!
What are your goals?
This may sound silly, but my goal is just to continue to love what I do. I have a family and with two small boys, and they will always be my main priority. I'm lucky enough to have an everyday job that I love, and traveling for Farouk Systems gets to be my hobby! 
Any accomplishments so far in your career that you're particularly proud of?
Being an international artist for Farouk Systems and getting to present at Behind the Chair's color cut and style show.
What are your hair color specialties?
I really love doing any color, from just a new growth touch up all the way to full-blown corrective color. Anything that is a challenge is right up my alley!
What do you love most about being a colorist?
I love that it's always changing. I love being able to completely change someone's look within a matter of a few hours.
Who would you consider to be your mentors/role models, and why?
Rocky Vitelli is someone I consider to be an amazing hair dresser and also a friend. I can call him anytime for advice, and he will always give me an honest answer. Richard Jordan is always on the cutting edge of new trends, and his work is beautiful and inspiring. Also, Danielle Regazzi is my stage partner and one of my besties. She's always pushing me to better myself and try new things!
Please share a hair color, prep or color care tip:
It's so important to complete every step carefully and meticulously, so you don't see spots or lines in the end result. When prelightening for a fashion color, it's a good idea to tone the hair at the bowl before applying the fashion color. This will help even out any bands or discoloration.
What is your favorite color trend/technique of the moment?
I love all the fashion colors!