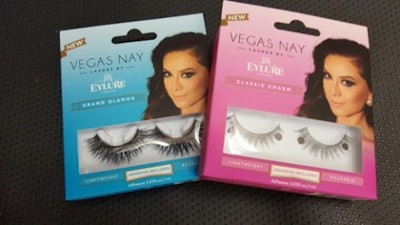 Eylure, a heritage brand with than 65 years of expertise in lashes, has partnered with renowned social media icon Vegas Nay to bring her passion for glamour to a range of unique lashes; Vegas Nay, aka Naomi Giannopoulos, has gained a worldwide social network following on Instagram with 5.1 million fans and industry professionals, and will now add Eylure to her illustrious path in beauty. The new collection consists of four pairs of strip lashes, each designed to her vision, an innovative individual lash with knot free bases and tapered tips, and a long lasting glue, tried and tested through decades of keeping Eylure lashes perfectly in place. Each pack from the Eylure Collection for Vegas_Nay includes lash glue and a custom designed applicator.
Vegas Nay shares her tips for perfect lash application:
1. Measure the lash against your eye. If it's too long, trim the edge.
2. If the band feels stiff or uncomfortable, just gently roll it to loosen it up.
3. Apply the glue. Wait 30 seconds to allow the glue to get tacky.  
4. With tweezers (you can use your fingers too), drop it close to the lash line.
5. Pull it into place and tuck the outer edge in- then do the same to the inner corner.
6. I like to then squeeze them onto my lashes to keep it seamless - you want to make sure the lashes are in the upwards direction to open up the eyes.
7. Apply some liner to hide the band if necessary and mascara only at the root to blend them in.