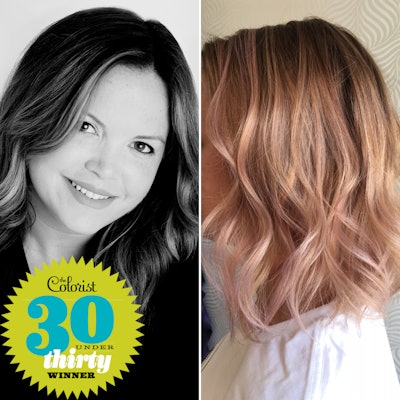 Every year, we honor 30 young colorists under 30 to find out what makes them so talented and successful. Get to know 2017 honoree Carleigh Niedzwiedz in our interview with her:
Name: Carleigh Niedzwiedz
Age: 29
Salon/company name; location: Lavish The Salon , Greenfield , Ma
Title: Co-Owner of Salon
Instagram: @designs_by_carleigh
Primary color line used: Keratin Complex Color Therapy
Beauty school/location: Digrigoli School of Cosmetology , West Springfield , Ma 
Tell me a little bit about yourself:
I'm a mother of two lovely girls (ages six and two). I knew I wanted to be a hair stylist since I was four years old, when I cut my own hair and told everyone not to worry, I was going to do this when I grew up. I eventually graduated early from high school to get a head start on cosmetology school. That's where I found my love for color and formal styling. Eleven years later, I am now a co-owner of my very own salon. I'm also an educator for Keratin Complex, so I get the opportunity to inspire, encourage and spread knowledge about our beautiful world of smoothing treatments and color! 
What inspired you to become a colorist?
I was so fascinated how the chemistry of hair and the art of the color wheel. My imagination came together to create something so beautiful. I know the possibilities are endless, and my days behind the chair would always be different!
What are your goals?
I'd love to expand our salon and excel in my role as educator. I love seeing the "ah ha" moments during classes with other stylists. Education is such a huge part of our success behind the chair. 
Any accomplishments so far in your career that you're particularly proud of?
I came in second place during Keratin Complex's Unmask A Hero contest for a color transformation! It was the coolest experience seeing my hard work being acknowledged. 
What are your hair color specialties?
I love free-hand color techniques and blondes! I love how blonde is so challenging, so it's rewarding when you can step back and say "wow that is a beautiful icy blonde." I can't help but feel so excited and accomplished! Free-hand color techniques allow us to put our creative hats on and just go. We can make a major statement or a subtle face framing baby light. I just love how there are no rules to what we can do!
What do you love most about being a colorist?
The instant gratification and how it always challenges me as a colorist to think " what if." I love pushing the envelope to discover new ways to use a particular color. And of course the obvious, our clients love and look forward to seeing me for their color!
Who would you consider to be your mentors/role models, and why?
Oh too many to count! I follow a lot of stylists from all walks of life on Instagram to get inspiration. Deborah Gavin has always been someone I love to listen to when it comes to color; she's taught me how to better communicate color to clients. I always leave a class of hers with several epiphanies that I am excited to bring behind the chair. 
Please share a hair color, prep or color care tip.
For all my vibrant colors, I finish with a glaze at the sink on towel dried hair. I think of it as my " top coat," like a a nail polish, to give it that shine. 
What is your favorite color trend/technique of the moment?
My favorite color trend has to be there Rose Gold tones. You can vary that tone to be warmer or more pink, a level 6 or a pale tone  . Oh the possibilities !