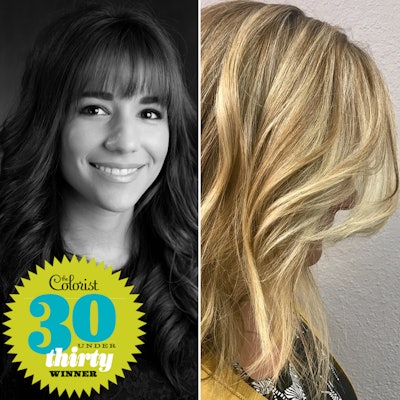 Every year, we honor 30 young colorists under 30 to find out what makes them so talented and successful. Get to know 2017 honoree Amanda Berman in our interview with her:
Name: Amanda Berman
Age: 26
Salon: TO Salon Suites
Instagram: @amandaffinage
Color line/s used: Affinage
School/Education: Paul Mitchell the school
What inspired you to become a colorist?
I became a colorist because I love the chemistry explaining how hair color works. It's so interesting to me!
What are your goals?
My goals are to keep growing in both personal and business levels.
Any accomplishments so far in your career you're proud of?
I am proud to say I have an amazing clientele and an am a young educator for Affinage. It challenges me in good ways!
What are your specialties?
Being from California, I love all my blonde clients!
What do you love most about being a colorist?
Being a colorists give me the versatility to change someone's look in the matter of an hour!! It's something that I can give them and that's an art!
Who would you consider to be your mentors/role models, and why?
Some of my role models are the girls I work with at the salon. They are great to look towards for different techniques or formulas! Working with other stylists can open your mind to other ideas you may not have thought of.
Please share a hair color, prep or color care tip:
A color tip I love is a "root smudge." It keeps your blondes interesting and customized. 
What is your favorite color trend/technique of the moment?
My favorite trend at the moment would be balayage. It gives the hard great dimension from all angles and something you can really customize with every client.