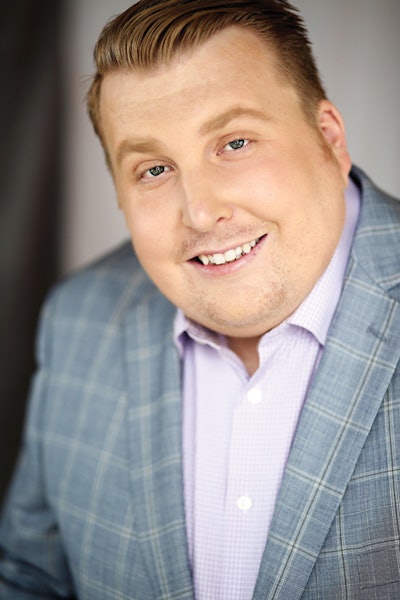 The vice president of sales and marketing at JOIFUL in Santa Monica, California, tells MAN about his company's innovative app connecting industry pros and consumers.
What inspired the JOIFUL app and how does it work?
For years, JOIFUL founder Hisham Koshak— who travels internationally—wished he could have someone come to his room and give him a massage at any time. I've also said for years, 'Why can't someone just come to my office and cut my hair?' From there, an app was born. We set out to create a business that brings the best of the salon and spa experience into the growing on-demand app world. Our focus is on the artist—the foundation to our success—so it was important for us to build a community of professionals who feel empowered to do what they love and make more money doing it, on their own terms. The app encompasses all aspects of beauty and wellness: haircare, massage, facials, nails and a growing list of men's services. Clients sign up and order a service, an artist in the area responds and arranges to be there in 60 minutes. The stage is set for a unique experience, with perks that come standard with any treatment, like aromatherapy and detoxifying tea.
RELATED: On-Demand Beauty App Joiful Launches in Los Angeles
You launched in the Los Angeles market in January 2017—what's the plan for expanding to other regions?
Our L.A. launch went smoothly and we'll be flooding the market and expanding our California service areas soon. We plan to launch in New York this spring and have been recruiting artists for the Manhattan market. From there, we will expand to other major markets, following demand closely. We plan to cover all of North America and then go international by 2018.
How many beauty industry professionals are currently providing services through the app?
We have a community of about 250 artists, including hair stylists, makeup artists, massage therapists, estheticians, barbers and nail technicians. We're constantly evaluating new professionals as we expand our markets.
If a pro wants to offer services through the app, what's the interview and screening process like?
We want the best of the best. To ensure that, our process is fairly rigorous. Artists go through an interview process which includes evaluation of technical skills, background checks, personality fi t and one-on-one screening. To date, we've hired about 20 percent of the total applicants.
RELATED: Joiful On-Demand App Helps Beauty Pros Connect with New Clients
What incentivizes your artists to offer their services through JOIFUL?
Essentially it boils down to two things: time and money. One thing I never considered as a stylist is how much it costs to run my business. It's significant, and it's only increasing. I believe artists mostly want to serve people and focus on their craft—not bills, payroll and insurance. We offer a solution to that. We can pass on our substantially lower overhead to our artists, allowing them to make significantly higher commissions on services. This allows providers to work less and earn more. It can also supplement a salon schedule—just turn on the app when you have a gap in appointments and pick up a few more clients. Ultimately, millions of non-salon goers are exposed to the world of professional beauty, helping the overall industry.
Do you help prepare pros before they begin offering services through the app?
All artists are trained to use the app, so they feel confident accepting jobs and are comfortable with the protocol of our customer promise. We require several courses around completing and handling at-home appointments with ease. We review all health and safety standards, and then partner with the best in the industry to provide advanced education on demand, which we reward the artist for completing. Our Men's program is currently led by Sally Rogerson, in an on-demand platform and with live weekly courses online for JOIFUL artists. As far as ongoing education, we keep our community current on new techniques and trends though webinars and events, and also bring people together socially.
How popular has the app been with male clients?
The male response is bigger than we ever expected. When they start, we're seeing a lot of haircut requests, but then they add on facials and nail services shortly thereafter. As we expand our menu of services, we expect them to request things like hot shaves, waxing and targeted skin treatments. Not one man I know actually enjoys going to a nail salon or a waxing salon. However, in the relaxing environment of their home, it's 'Sign me up!'
How do you see this app transforming the industry?
I believe that as the on-demand economy grows and expands to all facets of our lives, this will become a no-brainer lifestyle choice. Men who have busy careers can schedule their routine grooming on their time, according to their schedule. Becoming comfortable using the app will also lead to booking wellness services, like regular massages.
–by Alexa Joy Sherman
[Images: Courtesy of JOIFUL]