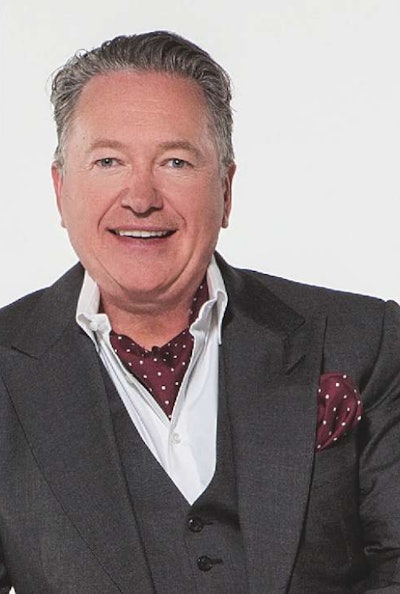 Andrew Dale, creator of UNITE and GO24.7, chats with MAN about his leap into the men's grooming space.
Tell us about your background.
As a kid I used to tag along with my mom to the salon. The stylists seemed so cool and, as I got older, I always considered being a hairdresser because of this memory. So, at the age of 16 I apprenticed at Vidal Sassoon in London. By 18, I was a stylist and at 20, I was doing session work with Vidal. After that, I relocated to the U.S. to teach for the Sassoon Artistic Team—both on platform and at the Academy.
Ultimately I decided to take the leap and open my own salon, which led to opening four more salons. After taking a short break from the educational arena, I started my brand UNITE. I knew there were numerous products on the market but not all of them truly performed. Because of my own experience, I was passionate about creating a company that would support the hairdresser. Every single initiative we undertake is rooted in that philosophy. From product to education to marketing to our creative team forecasting and inspiring trends—our mission is present in everything we do. With UNITE and GO24.7, if a product doesn't make a hairdresser's life easier, it doesn't make the line.
What sparked your decision to segue into a men's-only line?
Men's grooming is a fast-growing category; catering directly to men and increasing male clients is a great way to increase revenue. When conceiving of GO24.7, I didn't want it to be an extension of UNITE. Men want a line that's uniquely theirs; they want sleek, masculine packaging. They don't want to use products that have feminine packaging or fragrances; are unisex or a crossover line; or are what their girlfriend or sister is using.
How did you come up with the name?
Most men—like myself—are on the go 24/7. I'm constantly in a car or on a plane, arriving in a new city. This idea, along with my desire to create something sophisticated enough that our clients would want to display the products, led to the look of the line. The package coloring was actually inspired by a black-and-gold Formula 1 racing car.
Does UNITE's connection to fashion trickle down to GO24.7?
GO24.7 has always been immersed in fashion. We've partnered with top designers, participating in New York, London and Milan Fashion Weeks. We've created looks for everyone from Daks to Richard James, Iceberg and Suitsupply. Our target market is a metrosexual man who has an active lifestyle but also a keen interest in style and fashion. His world is made up of passion, strength and iconic style. He cares about the image he presents to the world.
How do you see the men's market evolving?
I think men are, more and more, looking for entire collections they can rely on—not just a product here and another there, from various places. Trust is hugely important when people decide to purchase a product. The goal is to have a repeat customer, and when you trust a product to perform, you know the other products in the line are made with as much care and concern. Men are straightforward, simple and they want systems. They like one-stop shopping.
What would you like to see changed in the industry?
It's simple: More education is needed. It's an invaluable necessity. Barbering is incredibly specific and an art in itself. You can't cut a man's hair like you do a woman's—you have to create a squareness to the corners, for example. The subtlety is vital. At UNITE and GO24.7, we're doing our part to change this, but it's got to change across the industry as well.
Anything on GO24.7's horizon?
We'll be moving into skin care and facial grooming. It's a natural progression going back to the notion that men want to use and trust one brand—they want a system.
"Men are straightforward, simple and they want systems. They like one-stop shopping." 
[Image courtesy of GO24.7]