How did you start barbering?
I picked up my first pair of clippers about 27 years ago, when one of my skateboarding friends asked for a mohawk on a night we'd been smoking weed and watching punk rock videos. Although I totally screwed it up, I loved the action of the clippers and the way you could shape hair. Word got around school that I was doing free haircuts (and, trust me, that's exactly what they were worth!). Friends would bring over their favorite records, do some serious underage drinking and wait for a haircut. Those days taught me a lot about the way of the barbershop and about hair. The guys showed me photos of their (anti)heroes: Johnny Cash, Elvis Presley, [punk rocker] Mike Ness—but also [hip hop group] N.W.A. and [skateboard legend] Steve Caballero. I learned how to use Black & White and Murray's Pomade, how to cut and comb, how to flat-top the hair. I still use those self-taught techniques, plus what I learned in school, on the streets and on the road.
Tell us about your barbershop.
My good friend Leen and I started Schorem together. We had the worst concept/business plan in the world because we didn't give a flying f*ckadoodle f*ckadoodle about what the client might want. We opened a place we'd want to go to. At that time in Holland, the barbershop as an institution was about to vanish. We dove into the history and culture of barbershops around the world. They've always been a "third place" to go, not only for a haircut but to chat among peers and release stress. Another important part is music; if haircuts are the backbone of barbershops, music is the blood that flows through its veins. We wanted a gentlemen's club with a 'sex, drugs and rock 'n' roll' attitude, and to do the haircuts that belong to those subcultures: rockabilly, psychobilly, punk, ska, hardcore, roots, Americana and bluegrass. So, from day one, our patrons have been freaks, weirdos and outcasts, next to the biggest dandies in town. That's the heart of the barbershop. Every guy is welcome; everybody is the same. Men have a way of getting along fine without knowing each other. It might be cliché, but it's a guy thing.
How did you develop your product line?
The name 'Schorem' translates to 'scumbags' in old Dutch and, when spoken, means 'I shaved him,' so we thought it was brilliant. The night we came up with the name, we joked that if we ever made a pomade, we'd call it 'Reuzel,' the Dutch word for lard. We thought it would be hilarious if a guy would say he had reuzel in his hair—and hair—and we actually actually came up with the pig label design that night. We kind of forgot about the whole thing later, but when Schorem became a success, we thought, why not? Guys don't want to take everything so damn seriously. It took us more than 18 months, from cooking up the first batch of product formulas (which went horribly wrong) in the barbershop kitchen to dragging the cans to Belgium and France. We finally found some American guys who helped us make exactly what we wanted: a product that was old-school enough to fit the shop and new-school enough to fit our philosophy about good-looking grooming.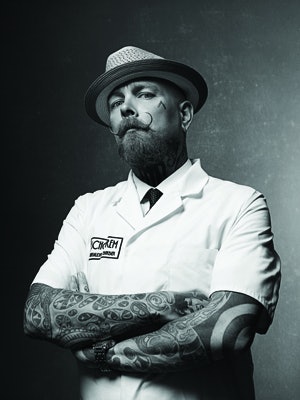 What do guys really want?
Guys want to look as good as possible with the least work possible. Good hair doesn't come from a tin; it's still all about the haircut. A man needs a barber who's not only good at cutting hair but who gets where that customer is coming from and understands the importance of leaving his house the next day looking great. That trust is the most valuable thing.
What has been your secret to success, and how do you plan to maintain it?
It's a combination of things, but most important is luck. We were doing the right thing at the right time. We just wanted to open a fun little barbershop to enjoy ourselves, listen to music, do cool haircuts and have a few laughs. It's also about good marketing and following your gut. Never put other people down and, most of all, do stuff for the love and fun of it. People see and feel when something's real or fake. Guys care about going to barbershops again, and about using the right products. Five years ago, it was hard just to find a good pomade. Now there are many great products on the market, we have to work even harder to come up with good ideas—but we love that. There are also lots of barbershops out there that look better or do better cuts than us. Or they've been around for ages. That inspires us. It's all about having a good time in the best environment you can offer; that's exactly how we see our future. But otherwise, what happens in the barbershop stays in the barbershop!
– By Tracy Morin