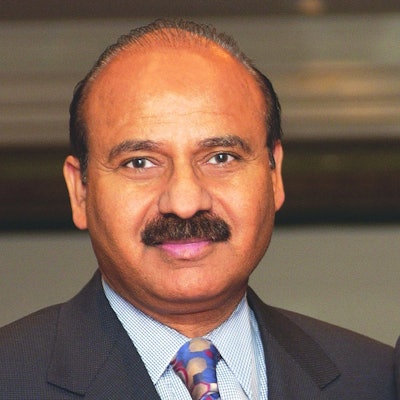 Überliss is on a mission to develop products featuring cutting edge formulas, while keeping the safety and health of beauty professionals a top priority. We spoke to Dr. Ali Syed, the entrepreneur and chemist behind the innovative company, to get the details about the unique breakthrough technology featured in the newest Überliss products.
Beauty Launchpad: Tell us about the newest product from Überliss:
Dr. Syed: Überliss Bond System is a strengthening and additive treatment for when you are coloring or bleaching. It is a cross-linking technology that improves the elasticity of the hair during bleaching and color. It also makes the hair fibers less porous compared to conventional treatments. This treatment can be used as a stand alone treatment by itself on color damaged hair. If you apply this for 20 minutes and rinse it out, it will strengthen the hair.
What separates it from similar products?
Our background is science. We've been working on the cross-linking of hair technology from the last 10 years. We tested the technologies quite a bit and then we added this new patent-pending unique system. The new molecules that we have found, the moment the bonds are broken, they go in and attach on both ends of the sulfur atoms to totally repair the hair. The damage is mitigated. Normally, bleaches will damage hair elasticity and porosity. With our system, the strength of the fibers remains around 99-100%. The porosity is also reduced significantly.
If hair is already damaged can this treatment help?
If the hair is previously damaged by colors and bleaches, after a shampoo, if you apply our Überliss Bond Regenerator treatment for 20 minutes and rinse it, the hair fiber gains 110% elasticity. It really gets the hair rejuvenated and becomes stronger and less porous. That was unthinkable 10 or 15 years ago. Finally, we have achieved it.
Is there a key ingredient that you can share?
We have applied for a patent, but it's a cross-linking agent that has never been used in our industry. We have converted this into a nanotechnology that penetrates deeply and cross-links on the broken bonds.
Tell us about your educational events and what stylists can expect:
I like to bring the chemistry of the hair and scalp to a level that can relate to everyday hair styling. I learn in the process from stylists and their questions. At the latest event, I presented our bond and smoothing treatments to hairstylists. We showed them the results, the performance, took pictures and answered their questions.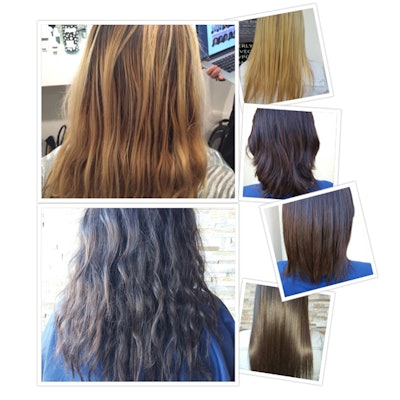 I am very candid in answering their questions; science comes first, selling and marketing comes second. As a chemist I believe the truth must be told, whether it is for you or against you. You must be truthful. If you are not and just trying to sell your products, the hairstylist is going to find out. It may take them four, five or six months, but they are going to know what the real story is. You might as well give them the honest scientific information, answer all the questions related to the products they are going to use and then support them. That is what I do. I give them the chemistry of the hair, the products and the scalp. What happens to hair and scalp simultaneously is very important —healthy hair, healthy scalp.
What are some of the common questions people ask about your treatments?
One question is, "Do you have formaldehyde or methylene glycol in your system?". Of course we don't. I have never worked with formaldehyde or methylene glycol. Since 2008 in my blog dralinsyed.com, I have talked about how formaldehyde was not good for your health or the industry. Some brands have 6%-7% methylene glycol in their products, but this is bad for your health. When you blow dry or flat iron, these fumes will affect your eyes, throat and nose. This is all documented by OSHA and health institutes. That is why I stayed away from formaldehyde or methylene glycol. OSHA and EPA tell you that they are one and the same thing. We use a compound called Glyoxylic Acid with a very low pH. Any fumes there will not really affect your health. To me the health of the hairstylist is very important. They are my customers —if they live longer, then I do better.
What can we expect next from you?
We are constantly coming out with new styling products. We will be coming up with new products based on organic and sustainable technology because we have to be responsible on this planet to help everyone from the farmer, to the consumer and in between. We are looking at more and more natural and certified organic ingredients.
To learn more about Dr. Ali Syed and Überliss, visit dralinsyed.com and uberliss.com.
[Images courtesy of Überliss]