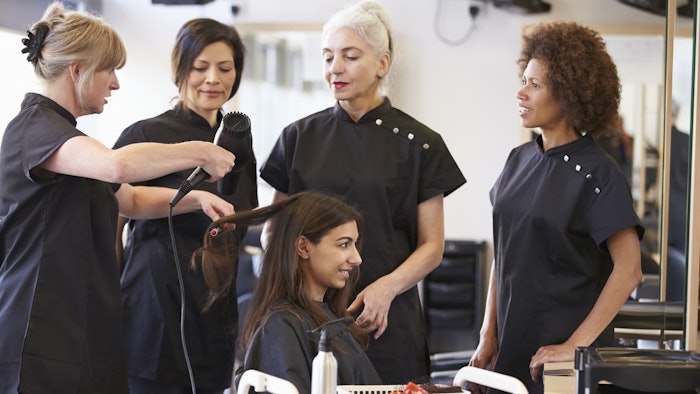 Salon owners know that leading a fierce team of stylists is as challenging as it is rewarding. Leaders at a salon not only set goals and expectations for the staff—they also set the tone for the whole business. When dealing with that kind of responsibility, it is vital to wield it respectfully and effectively. 
Tracy Ftacek, founder and CEO of The Pretty Convenient App and Pretty Set Go, shares how her career and experiences shape how she approaches leadership and shares advice for finding success when working with your salon team. 
Beauty Launchpad (BLP): In your opinion, what makes a good salon leader? Good communication? Setting boundaries? Motivating fellow employees to reach their goals? 
Tracy Ftacek (TF): The ability to communicate with your team effectively and efficiently is the marker of a good leader. The skillset to communicate the needs, processes, systems, and vision of the company to the team allows everyone to understand the expectations and how the brand intends to move forward. A higher level of trust, respect and safety is built by permitting the team to execute intentional decisions based on the company's core values and the value the team members play in building a beauty brand.
BLP: What advice do you have for salon owners who are facing setbacks?
TF: This can be a tricky question. It truly depends on where the setbacks are taking place; however, if setbacks permeate multiple areas of their business, burnout may have set in. If that is the case, it is time to find a beauty industry coach or consultant who can help them assess where the setbacks are truly stemming from to find resources to navigate away from these challenges. If there are minimal setbacks, then lean into your team's opinion to discover where and how it began and request them to assist in coming up with a solution. They desire the business to be successful as well. 
BLP: What is your biggest takeaway from the challenges you have faced in your career?
TF: I would have to say my company-wide walkout was the most challenging time in my career. I felt completely blindsided and many emotions bubbled up, including believing that they were horrible people, that I must have been a horrible leader and that I was going to lose a successful salon business. All of this was far from the truth. At the time I hadn't mastered the art of communication. I was implementing many changes that would scale the business and the team to another level of success. These changes created fear and the belief that I was not considering their career growth. As an entrepreneur, you process change quickly. This is not a characteristic of all team members and without proper communication, the relationship can implode.
I chose to use this opportunity to sell my salon and launch a new brand and business model. This act of resistance to failure gave me the motivation to launch two digital beauty tech brands: the Pretty Convenient mobile app, which has grown into a multi, seven-figure brand, with the addition of the Pretty Set Go virtual beauty box.
BLP: How do you approach leadership and is there a mentor you look to for guidance?
TF: Trust and respect lead my leadership style. I believe the lessons learned from my walkout are the importance of implementing a massive communication style, honoring the team of individuals who join my brand, and realizing their insight and ideas are a gift that can keep on giving when properly nurtured. 
My two beauty tech brands are disruptors and as a non-tech founder of two technology businesses, I straddle an interesting line between what I know and where the gaps in my skill set lay. 
I have found I have had to do legwork on my own to discover many of the answers to my problems such as looking to major brands in technology, always asking questions and listening to what the consumer is buying and asking for, and then developing my way of delivering on that need. I do believe the trademark of an industry disruptor is a thought process and personality type. It is important to actively search for founders who possess this mindset. I hope one day I can be the mentor another disruptor needs to build the business of their dreams.