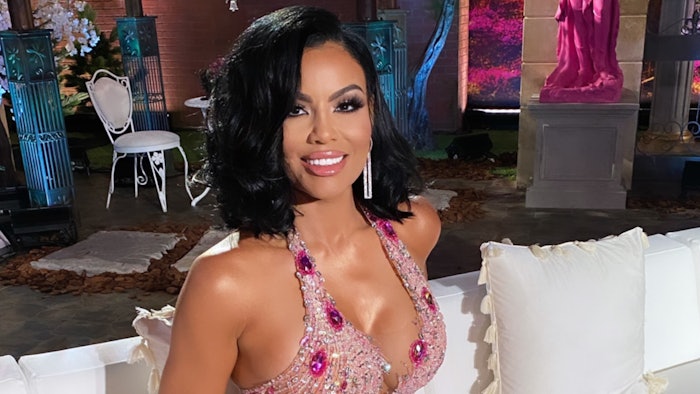 Courtesy of Jade Jenkins
Jada Jenkins, a Sam Villa ambassador, Mizani artist and L'amour de Rose salon owner, styled Mia Thorton's for Bravo's Real Housewives of Potomac reunion show!
"I felt Mia needed something off the shoulders because of the detail in her dress and bobs are classic, timeless, but also really fun!" explains Jenkins.
Jenkins used Mizani products to smooth and combat humidity and Sam Villa tools to create the look.
 Get the look:
Shampoo with Mizani Press Agent line to help smooth natural hair and control humidity.
Blow-dry straight with a Sam Villa Vision Blow Dryer and paddle brush.
The Sam Villa Artist Series Cordless Clipper (coming soon!) and cutting comb were used to establish length.
Blending shears were used to soften ends and remove bulk.
A Sam Villa Signature Series Straightening Sleekr Professional Straightening Iron was used to straighten the hairline smooth.
Curled hair with a Sam Villa Artist Series 2-in-1 Marcel Iron and Wand to create a nice solid curl.
Locked in the style with Mizani HRM anti-humidity spray.
Let curls set until walked on set.
Used a wide-toothed comb to gently comb curls into a soft wave.
"This was a 15-hour day, I was very impressed that her hair lasted pretty well.  I only had to give her one touch-up throughout that day!" adds Jenkins.