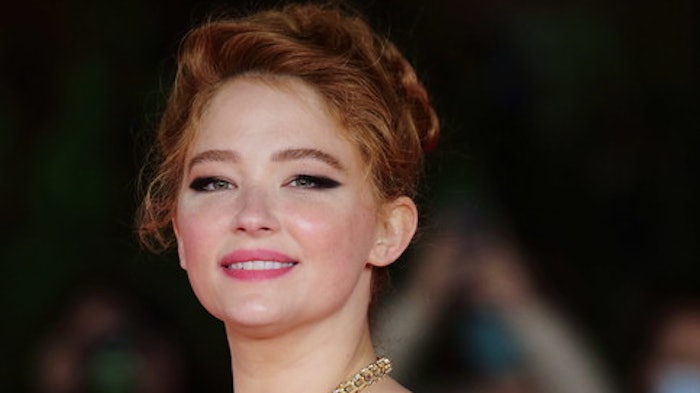 Courtesy of @giannandreahair
Hairstylist Giannandrea worked his magic on actress Haley Bennett's hair at the 2021 Rome Film Festival.
Giannandrea is one of the most in-demand celebrity stylists, and is creative director for Hair Prescriptives hair care.
The inspiration for the look was a "regal, modern, glamourous updo with a sense of romanticism," says Giannandrea.
Giannandrea shares how to achieve this look in a few simple steps:
Blow dry freshly washed hair with a large round brush in sections to create overall volume. Once each section is dry, apply a working hair spray to each section and pin into place, letting the hair cool down for a few minutes.
Once a few minutes have passed release the hair from the pins and use a boar brush, lightly brushing through to amplify volume.
Using a tail comb, create a triangle on the top part of the head from temples to top crown. Then clip/pin that section into place (it will be the last part of the hair to be gathered prior to finishing). 
Split the back of the head into two sections. Brush each section upward to the top side of the crown. Use a thin elastic band and create a ponytail (that will be braided afterward).
Once you have the ponytails done, use Hair Prescriptives Daily Nourishing Styling Cream. Use a small dab, emulsified in hands/fingers, and run it through the ponytail before braiding.
Braid each pony lightly and cleanly. Create a regular braid–nothing too complicated is needed. Tighten the end of the pony with a very small clear elastic band once complete. (The back and sides of hair are up into two braids now.)
It's now time to take down the triangle section on top. Brush it sideways to allow the hair to cover the temples and part of the sides. Gather the hair on top between the braids and wrap it into a small bun.
Take one of the braids, starting from the back, and wrap it around the bun while pinning it in place as you go around it. Take the second braid and do the same; just pin it into place to create a double-top crown.
"Make sure the braids are secured into the top bun! Once complete, open up the braids slightly using your fingers," advises Giannandrea.