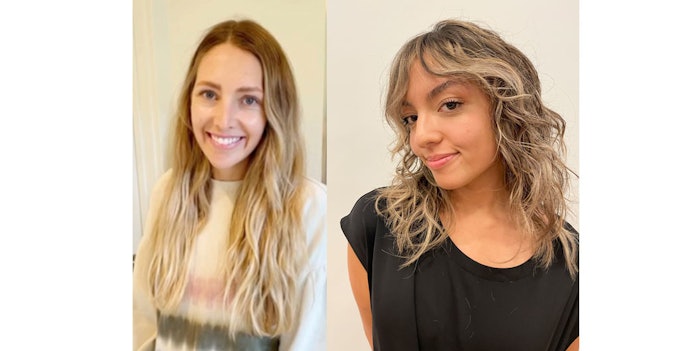 When the summer heat and humidity are in full effect, we often see beauty routines become more simplified. From less makeup to more effortless on-the-go hairstyles, uncomplicated grooming routines are often a preferred summertime trend.
All About the Air Dry
Giving our styling tools a break is always a sign of summer. This year, R+Co collective member Kylee Heath (@kyleeheathhair) has blessed us with her textured waves air-dry tutorial, which uses R+Co's COOL WIND pH Perfect Air-Dry Crème. The cream is formulated to moisturize hair while also controlling, taming and softening to ease the styling process. R+Co suggests using this product to tame frizz and style without using a blowdryer.
Heath's tutorial includes the following steps:
Step 1: Apply a quarter-size amount of

COOL WIND

pH

Perfect

Air

-

Dry

Crème

to clean, damp

hair

. Massage the product from roots to ends.
Step 2: Comb the product through the

hair

, making sure to detangle any knots.
Step 3: Scrunch hair up toward the root.
Step 4: Towel-

dry

hair

for 20-30 minutes to absorb excess water.
Step 5: Twist varying sections of

hair

away from the face. Continue until the full head is complete.
Step 6 (optional): Tie back twists into a bun to emphasize the curl structure.
Step 7: Let the twists unravel throughout the day and finger-comb through

hair

.
Wash 'n Go
Following the quick and effortless summer hair trend, Sam Villa ambassador Karla Valenzuela (@kolor.me.karlaa) created a shaggy haircut for her sister that was perfect for wash-and-go styling.
Valenzuela explains, "She is flat iron OBSESSED. I wanted to give her a new vibe and something that would look good as a wash-and-go style, so we decided on a mid-length shaggy cut.
"For the haircut, I used a technique I learned from Becka Bradshaw (@beckabradshaw) on the fringe. Overdirect hair to the opposite side of the face. With a Sam Villa Signature Series Reversible Blending Shear, cut at a diagonal finger angle with the shortest length toward the face and longest away from the face to create a soft diffused line that blends really nicely.
"I was inspired to hand-style her hair with a technique I learned from Manda Ziegelman (@mandaziegelman). You apply the product—I used Redken Acidic Perfecting Leave-in Treatment for Damaged Hair and Curvaceous Ringlet and Wind Up—to help repair and protect. Then, you just bend and twirl the hair into place with your hands and heat it with the blowdryer at low speed. (Okay, so I cheated, we used a blowdryer.)
"This haircut really helped bring out the curls in my sister's hair that she didn't even know she had! It was exciting for both of us, and I can't wait to apply more inspiring techniques at the chair!"