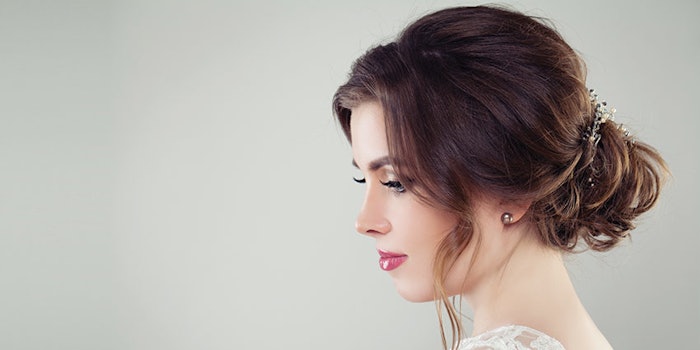 When normalcy returns and we begin attending weddings, graduations and black-tie galas like before, special occasions may come to feel even more momentous—and clients will need the hair to match. From va-va-voom volume to funky updos to vintage-inspired tress accessories, the hair worn to memorable fetes requires extra thought and planning. Our experts share their big event styling tips.
Market your special occasion hair services on social media.
The Art of Marketing
Before you can do the hair, you need to book the gig. Marketing in 2021 can't happen without social media, so post high-quality images and videos on platform feeds and stories, and use relevant geo-markers and hashtags to your advantage. "I hashtag all the towns around me when uploading bridal photos, so as to attract local clients, and include specific venues and cities on my posts so brides researching locations will come across my work," shares Shayla Robertson (@samirasjewelry), master bridal hair and makeup artist, as well as SexyHair visionary team member.
Cultivating a rich professional network is likewise key. Collaborative shoots with photographers, florists and venues can lead to future work or additional social media images. "Maintain a good reputation with vendors so they may refer clients your way, and make local event planners aware of your portfolio," says Amanda Fator (@amandafator), SexyHair platform artist.
The Art of the Consultation
Congratulations, you got the job! Now it's time for an in-depth consultation prior to the big day. That requires thorough planning and meticulous attention to detail. "Ask precise questions about the location, total number of people in the party, start times for all services and specific hairstyle the client is hoping to achieve," says Robertson. Along with inspiration photos or Pinterest boards, it's good practice to request pictures of a client's hair pre-appointment. Keep those on hand when thinking about texture, length, prep time and product arsenal, as some styles require extensions or extra execution time.
Next, be clear on timing and pricing. "The top complaint I've heard about vendors is unmet expectations," says Fator. Clients should know exactly what's included, and what they'll have to manage on their own. "Based on each individual head of hair, define realistic parameters of what that style will look like versus the pictures," says Paul Wintner (@paulwintner), Alterna Haircare global education manager. Finally, use a contract. "Special-event styling is typically all day, on location, costly work," says Fator. "Contracts protect stylists while bringing security to clients."
The Art of the Hair Trial
Once all terms have been cemented, the fun can start. Hair trends change fast, so book a trial no more than three months in advance to ensure your big-day look is timely. "I avoid telling my bride that a run-through is an exact rendition of what to expect on event day, to further nix unrealistic expectations," says Fator. "I also ask the client to bring all hair accessories, extensions, veils or head pieces to the trial." Make this a fun hour for reviewing photos, playing with products and answering questions. Pro tip: "Advise your client to get their trial done before a special event or photo shoot, so the work doesn't go wasted," says Robertson.
The Art of Day-Of Styling
All your prep work is about to pay off. Arrive at least 30 minutes early to find the right room and set up your table. Aim for a window location when possible, to aid with both vision and lighting for photos. "Make sure you're rested, hydrated and ready for the day," says Wintner. It can be tempting to throw on yoga pants and a sweatshirt, but stylists should dress to impress. "Some behind-the-scenes images will live on the Internet and in albums forever," says Fator. "Plus, you never know when you'll score a last-minute invite to a great party!" An assistant can help keep track of schedules and do the crimping, curling or straightening prep work ahead of your master styling. "I start with updos first, followed by half-upstyles later in the day to keep curls crisp," shares Robertson. "Brides go last on the list so they'll be fresh for photos." Leave 20 minutes at the end of the service for touchups, images and video—and don't forget to swap business cards with the photographer for future events. And remember: Small gestures pack a powerful punch. "Helping the bride apply her veil or offering a mini hairspray require little investment, but will make her feel cared for," says Fator. Finally, just breathe. "Be the calming energy your client needs," says Wintner.
For the entire article (and our top product recommendations!) check out Beauty Launchpad's April digital magazine.