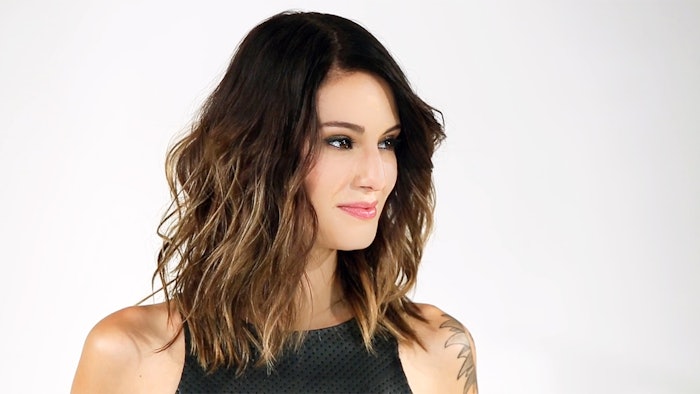 "The perfect beach waves seen all over Instagram may look like people just rolled out of bed with gorgeous texture, but as stylists, we know that it takes a lot of effort to look effortless," Sam Villa, co-founder of Sam Villa and Global Artistic Ambassador for Redken, said.
Tips
Always apply a thermal heat protectant before curling hair to minimize damage from heat.
Work with the iron nonconventionally to create loose texture versus crisp curls.
Do not be precise with sections, work randomly - the smaller the section, the more intense the curl, go for larger sections to create softer movement.
Wrap and Twist Technique
Pick up section and spray with Redken iron shape 11 and comb through.
Using a Sam Villa Artist Series 2-in-1 Marcel Iron & Wand, season hair with a pass of heat to break up the bonds.
Working with the barrel on the top and blade underneath, direct hair back and away, wrap a half coil, twist underneath until the ends and release so hair slips out and cools.  The wrap should start about 1.5 to 2 inches from the head and the ends should be left out.  Beach waves tend to sit midshaft.
Beachy Wave Comb Out
Take head forward and shake it out, then spray Redken wax blast 10 to add texture and a shattered effect on the ends…this makes hair look like it was cut with a razor.
Spray hands with Redken fashion work 12 and work through hair to finish waves with the perfect amount of hold with ultimate flexibility.
"The comb out is critical for beachy waves because you want to create a small sense of movement and volume with an organic finish…so don't overwork it," added Villa.
[Image and video courtesy of Sam Villa]