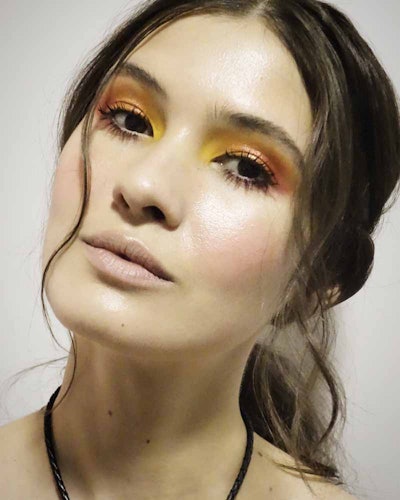 Hair lead Ted Gibson has been a longtime collaborator with designer Carmen Marc Valvo, and he likens the relationship to what he experiences with his salon clients. "In the salon, when a guest brings in a picture and says, 'I want this,' but it doesn't' make any sense that she wants 'that,' I step in as the professional and say, 'I'm going to give you my interpretation of what that is, specifically designed for you,'" Gibson says. The same thought process applies for designers: "When I meet with Carmen, that's part of the collaboration: He trusts me. He shows me the clothes, he tells me the inspiration, and I come up with the girl. And then we tweak it from there," he says.
This time, those tweaks revolve around hair inspired by the 70's—think: Farrah Fawcett's face-framing feathers, Pam Grier's afro, Stevie Nicks' curl-meets-wave. "There are so many iconic images from the 70's. I wanted to come up with a mixture of what all of that would be," Gibson says.
To bring this mixture to life, he starts by drawing a deep center parting and prepping hair with Kérastase Mousse Bouffante, applied mid-lengths to ends. He stresses that a "great blow-out" with a medium round brush makes the hair lush and ready to hold a wave. With a one-inch curling iron, Gibson curls the entire head, using one-inch sections to create loose waves. Gathering the hair at the nape, he creates a low ponytail and wraps a piece of hair around its base. "The lower the ponytail, the more sophisticated it is," he notes, adding that the hair-wrap detail reminds him of Yves Saint Laurent in the 70's—a chic element that is an easy addition to any pony. To finish, he fluffs up the ponytail and pulls a few tendrils loose around the face, all the while misting L'Oréal Professionnel Elnett Hairspray to secure the style.
Lest you think doing a ponytail is easy-peasy (or, worse, boring), Gibson wants to dash that sentiment. "You may think you're just going to pull [the hair] back and call it a day, but, for me, it's all in the details," he says. "I determine: Is there a bump? How does it make her face look from the front and the side? What kind of a shape am I looking to create? Is this going to be romantic or fashionable?" Of course, Gibson's expertise on hair is extremely sought after, and to meet this demand, he's just launched academy.tedgibson.com, which hosts a subscription-based library of videos on haircutting, color and styling, with a new video being uploaded each month. Will this show's how-to be posted? "Of course!" he thrills. —Karie L. Frost