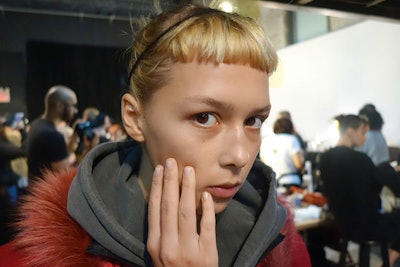 As Milly designer Michelle Smith pulled together her NYFW Fall/Winter 2017 collection, American politics were going off the rails and she felt lost—or, rather, "Fractured," which she named her show. The idea of being disoriented follows through to the hair, which Wella lead Bob Recine explains as a "fractured ballerina. She's broken, disjointed. And the clothes are somewhat abstract, too, so we wanted the hair to follow." To achieve his broken ballerina bun, he saturates melon slices of dry hair with Wella EIMI Boost Bounce Curl Enhancing Mousse and directionally blow-dries the hair away from the face. Then, he haphazardly gathers the hair lengths back into a ponytail, pointing out that the imperfections must be left as is to achieve the desired effect. After applying a few spritzes of Wella EIMI Stay Firm Workable Finishing Spray in the ponytail, he separates it into two sections, and then begins twisting and wrapping one section in one direction, and the other section the in the opposite direction. A final misting of Wella EIMI Glam Mist Shine Mist accentuates the fractured nature of the ballerina bun.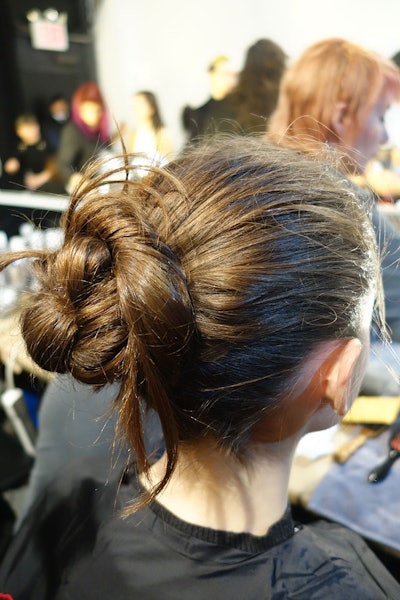 For makeup, the fractures continue to crack through the beauty, and MAC makeup lead Sammy Mourabit translates this idea as naked "rebellious makeup." What that means: super-hydrated skin (thanks to MAC Moisture Cream); raw skin (no concealer under the eyes); and tons of smart highlighting using a mix of MAC Cream Colour Bases—Luna, Pearl, Shell and Improper Copper—applied along the bridge of the nose, the eyelids, the cheekbones and Cupid's bow—pretty much anywhere light would hit. "I want a contrast between the under eye sand the beautiful glowing skin," he says. 
Less fractured but completely in line with the ballerina idea is the manicure: two coats of Priti NY Pearl Drift for a sheer pink that provides a spark of feminine appeal against a collection heavy in menswear elements. 
[Images courtesy of Karie Frost]