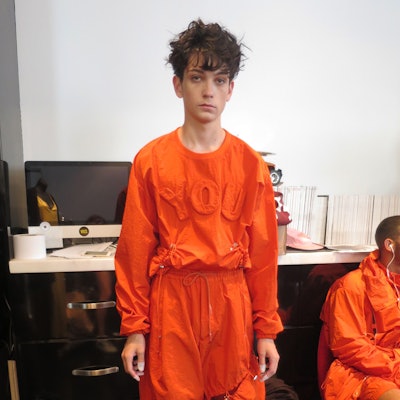 At New York Fashion Week S/S 2017, Lead Hairstylist, T. Cooper of Metro Look, and her team were sponsored by Professional to create retro 80's hair for avant-garde designer Feng Chen Wang. The presentation took place at the trendy V Files space in SoHo. Feng Chen Wang is a London based menswear label founded by Chinese designer Fengchen Wang in 2015. With a strong focus on technical outerwear, Wang's garments range from the relatively minimal with a forward-thinking functionality, to the boldly conceptual and wholly futuristic. In a style that has become signature, this subject matter is directly spelled out in each collection through simple word choices that are boldly embroidered across garments.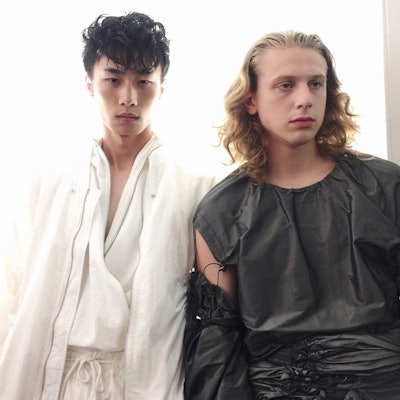 After Wang explained how the inspiration for the collection was how people only communicate digitally now, Cooper suggested that the hair should be inspired by the 80's, because that was the last decade where people still had real interactions. The styles created for the presentation were based off of two very popular 80's looks. "I wanted to create some cool shapes, and I knew the Professional products would be a perfect fit," said Cooper.
Get the Look:
The first style, dubbed "Teen Idol" (top) by Cooper, is a short, curly haircut with height on top and "man bangs" that was worn by 80's icons like Ralph Maccio and Corey Haim. This look was created by spaying the hair with Professional Ultra Shaping Plus spray, curling the hair toward the face with a 3/4-inch iron, warming up Professional Fiber Wax with the hands, then finger-combing it through the hair to break up the curls and create a feathered texture. Finally, the team used the Professional Freezing spray to hold the look in place.
 
The next look, called the "Modern Day Mullet" (bottom), gives the popular 80's mullet hairstyle a 2016 twist. Since no modern male would ever have short hair in front and long hair in the back, the team cheated the look. There are plenty of models with long, one length hair, so they slicked the hair down in the front and built up the shape in the back. The look was created by applying Professional Pomade and brushing the hair down to appear sleek. Next, stylists used Professional Volume Boost spray to the hair in the back before curling it with a 1-inch iron. Stylists then teased the curled hair to create an exaggerated shape, and finished with Professional Freezing spray.