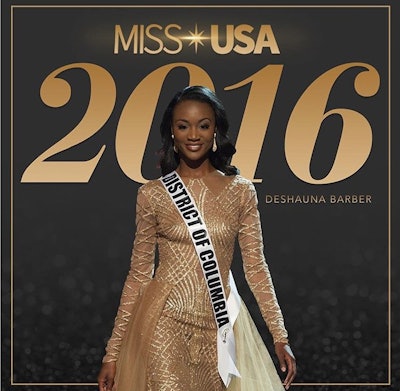 On On Sunday, June 5, 2016, Deshauna Barber became the first military member to be crowned Miss USA. As official hair care sponsor for the event, Farouk Systems Artist, Nik Martel was responsible for creating Deshauna Barber's winning hair look. Chic, glamorous waves complemented Barber's new crown as she took the stage to celebrate her victory.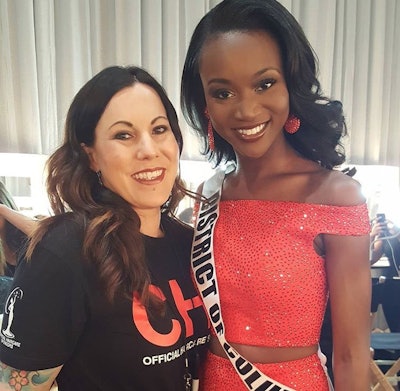 Recreate the look in the salon with Martel's how-to, below!
Get the Look:
To prep hair, first take a few drops of a CHI Royal Treatment Pearl Complex and evenly distribute it throughout the whole head lightly with hands and a CHI Paddle Brush. This adds moisture and shine as well as heat protection to the hair before styling. Tip: When working in an air conditioned arena combined with a dry desert climate such as Las Vegas, moisture is key to tame fly-a-ways and static electricity. These can be your worst enemy with HD television.
Section hair into four sections (sides, top and back) and secure with clips.
Starting in the back nape area, take a 1 1/4-inch sub-section and spray both sides with BioSilk Natural Hold Hairspray. This is going to keep your set smooth, bouncy and under control while adding extra moisture and heat protection.
Using the Dura CHI 1 1/4" Marcel Curling Iron roll your first sub-section at the bottom of the nape upwards clip into place.
Using the same sub-sectioning technique, Dura CHI Curling Iron and BioSilk Natural Hold Hair Spray, curl the next subsection downward and clip. Keep working up to the crown in this manner rotating the direction for each sub-section.
On the sides, use the same technique as at the nape. The first sub-section at the bottom of the sides will be upward while the remaining will be curled downward.
The top section will be curled and pinned horizontally back and clip.
Let hair cool to room temperature before removing pins. In this case, Deshauna needed to return to rehearsals which allowed the hair to cool and set for additional time. This is always ideal to secure a stronger curl.
After removing clips, spray the hair lightly with CHI Royal Treatment Rapid Shine. Use an oval small style CHI Paddle Brush to gently brush out curls and start forming into place.
To finish, spray one last time with BioSilk Natural Hold Hair Spray. This will lock in the moisture and shine while letting the hair still flow with a natural bounce.