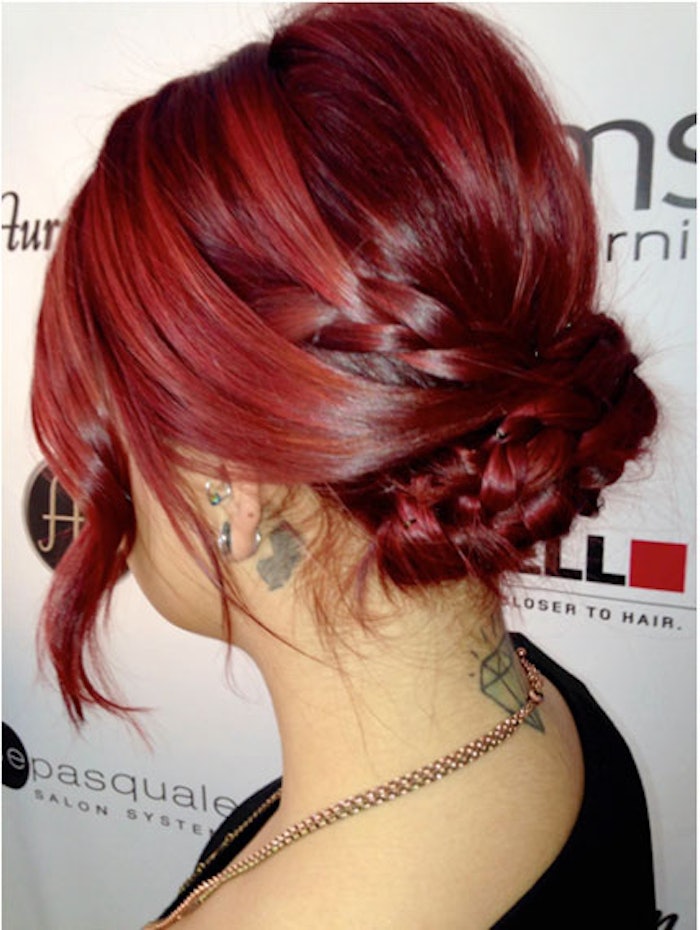 Up-dos are not just for the conservative crowd thanks to new trends such as incorporating braids and fun, vibrant colors. Emily Dantoni, stylist at Aurelio Salon in Howell, NJ, creates "hip-dos" that appeal to the most stylish and trendy clients, and just in time for wedding and prom season!

"Combining easy-to-do braids in a wispy whimsical fashion is a great way to approach up-dos for edgier clients looking for styles that are unique and hip, yet elegant enough for special occasions," explains Dantoni. "When their color is bold, it makes even more of statement."

Get this gorgeous, bright-and-braided hip-do with Dantoni's easy steps:
 
On dry hair, determine the face framing pieces by sectioning away the hair that falls before the ears.
Run a dime-size portion of Goldwell STYLE SIGN Spun Shine Gloss Shine Cream from mids to ends to give fine hair shimmer and soft hold.
Tease at the crown for height – use discretion to decide how much volume is ideal for the desired result. Smooth the remaining hair back and divide into 3 sections. Individually braid each section and secure each braid with a rubber band.
Pull the braid on the left over to the right to hide the end and secure the braid into place by tucking a bobby pin into the base of the right braid. Repeat for the right braid.
To place the third and middle braid, gently pull apart the others using a bobby pin, and go underneath the two along the nape of the neck and secure the ends by tucking. Spray with KMS Californian HAIR STAY Dry Xtreme Hairspray.
Let the front pieces down and loosely braid the section closest to the ear and pin above the other braids, pull the rest gently to release shorter layers and pin with braids.
With a 1" wand, curl the face frame and finish with KMS Californian HAIR STAY Dry Xtreme Hairspray for hold and KMS California STYLE SING Diamond Gloss for impressive brilliance.

For more, please visit aureliosalon.com
[Image courtesy of Glow Communications]