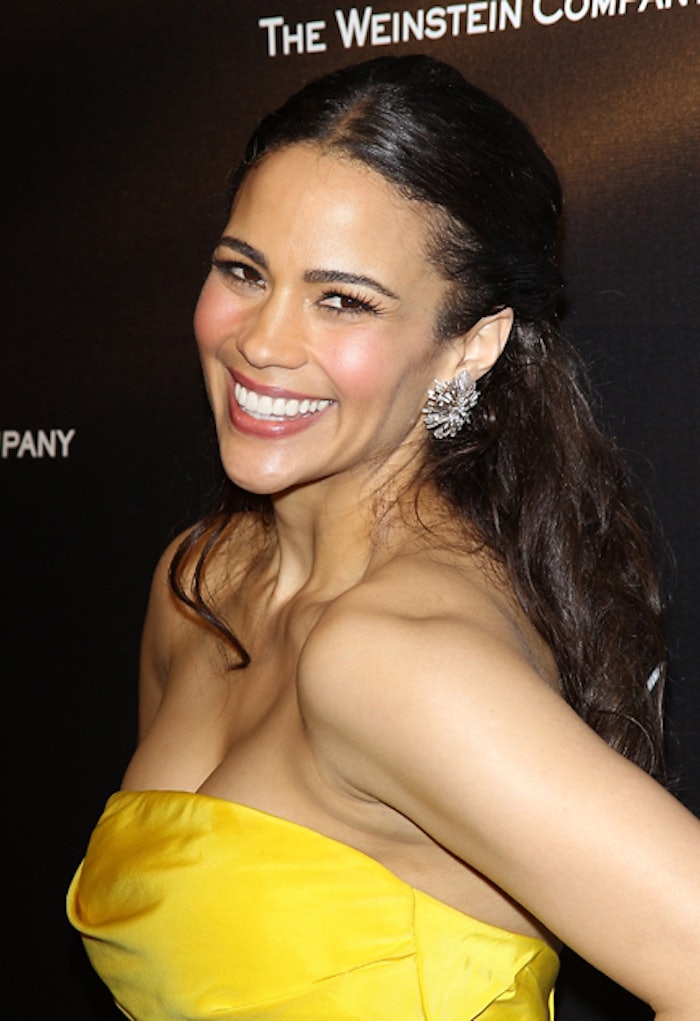 Stylists Robert Steinken and Enzo Angileri created glamorous looks on Paula Patton and Charlize Theron with Moroccanoil:
red carpet in a vibrant strapless yellow gown and a chic, sexy hair look designed by leading celebrity stylist Robert Steinken. Her look was perfection.
 
Inspiration
 
"The Monique Lhuillier gown looked beautiful on Paula, very movie star," explained Robert Steinken. "As a result, I envisioned a style with the sophisticated sexiness of Brigitte Bardot, but modern and sexy without looking retro. I also gave the hair a sleek, shiny and luminous look that was soft and full of movement."
 
"I parted the hair at the center, added a bit of subtle volume at the crown, pulled the hair back close to the sides of the head, twisted it in back and let it flow down Paula's back in soft, cascading waves."
 
How the Look Was Created
 
"I started with damp hair and sprayed a small amount of new Moroccanoil Frizz Control throughout the hair to balance hydration and prevent frizz."
 
"Next, I used one of my favorite products, Moroccanoil Hydrating Styling Cream. It's amazing to use because you don't feel it in the hair and it gives a beautiful texture while softly holding a style and allowing it to move."
 
"When I blow-dried hair, I used a round medium-size Moroccanoil Ionic Ceramic Brush. I especially like its design since it holds the heat and acts almost like a roller while you blowdry, giving a nice smooth wave to the hair."
 
"Taking 2-3 inch sections, I let the brush to stay in the hair 10-15 seconds longer to allow it to cool and set the hair.
 
"Next, I used a 1" curling iron iron. starting at the root and wrapping the hair around the iron in a spiral. I held each section for 15-20 seconds, then removed and pinned the curl with a clip or bobby pin to let it cool."
 
"I lightly sprayed the set with Moroccanoil Luminous Hairspray, unpinned, and brushed the curl out, then made a center part."
 
"I then backcombed the hair at the crown for height, starting 3-4" inches from the hairline. To keep the backcomb in place and to style the hair more easily without losing volume, I sprayed it with Moroccanoil Luminious Hairspray.
 
"Finally, I sectioned hair behind the top of each ear and brought both sides together in the back with a twist, and pinned.
 
"I sprayed Moroccanoil Luminous Hairspray on the style for hold. I love this hairspray because it allows movement. Hair can fall forward and move when Paula does. It kept the look very sexy, fluid and beautiful. It's a unique product.
 
"I finished the style with Moroccanoil Glimmer Shine Spray for an extra touch of shine.
Golden Globes Red Carpet. "I wanted her hair to have a casual feeling, very soft, almost as if she had pulled it together herself," explained Enzo.

"I made the most of Charlize's natural waves, and created the style around her texture. The design itself is modern, asymmetrical, and just a little messy.

"Charlize wore a dramatic Cartier diamond headband and when you have such an important piece of jewelry, it can become too much, almost old-fashioned, if you have slick, over-styled hair. I wanted to create an updo that combined a bohemian, romantic, and casual mood, but was strong enough for the red carpet."

"The essential, and star product for this style was Moroccanoil Frizz Control. I also used Moroccanoil Luminous Hairspray and Moroccanoil Glimmer Shine Spray to create the look, keep the hair in perfect condition, with a lustrous shine and softness.

How the Look Was Created:

"I started with already dry, naturally waved hair, and curled small sections with a 2" curling iron to enhance the volume and texture. I used the larger iron because I didn't want to curl her hair, but to refine the natural wave. This helped create an effortless transition from her natural look to red carpet."

"Once finished, I lightly misted the curled sections with Moroccanoil Glimmer Shine Spray. After a few minutes, I completely brushed through her hair with a Moroccanoil Ionic Ceramic Paddle brush to eliminate any trace of separation, for a natural, clean look with a romantic, soft texture."

"Next, I swept the hair to the left and made three sections. I pulled and rolled the first two into a loose bun and pinned them, working with Moroccanoil Luminous Hairspray throughout the process to control and hold the hair in place. I released and wrapped the last section under and around the bun and pinned it. Finally, I adjusted and freed strands in the bun so it looked even more unstructured, messy, and a bit wispy."

"I also sprayed the hair with Moroccanoil Frizz Control, the key product to making this look work and photograph well. Moroccanoil Frizz Control made any flyways disappear, gave me more control of the hair and the look of the bun, and kept everything frizz-free through the evening. I then placed the Cartier diamond headband into the style."

[Images: Paula Patton by Michael Tran/FilmMagic; Charlize Theron by AFP]