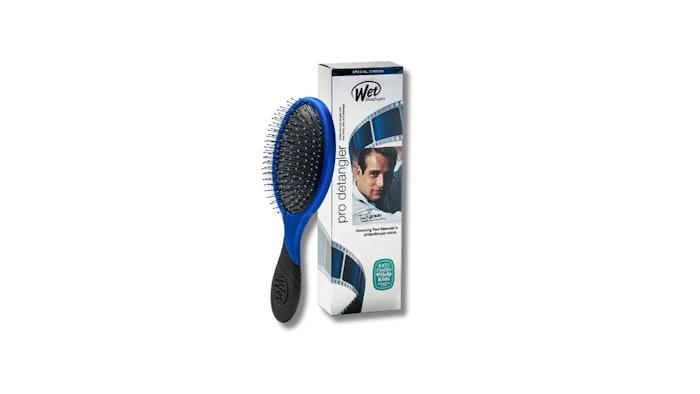 Courtesy of Wet Brush
Wet Brush, creator of The Original Detangler, has unveiled a NEW special edition hairbrush inspired by Paul Newman in partnership with Newman's Own, the radically good brand founded by the legendary actor, racecar driver, and philanthropist.
Wet Brush is the very first brand selected to participate in "Newman's Deal," launching a Special Edition Wet Brush x Newman's Own Pro Detangler in Deep Blue with 100% of the profits donated to helping kids facing adversity. 
Inspired by Paul Newman's iconic blue eyes and encased in stunning collectible packaging, this Wet Brush makes the perfect holiday gift for beauty enthusiasts, film buffs, Paul Newman fans and anyone who likes to give gifts that give back. The deep cobalt Wet Brush Pro Detangler is an award-winning brush renowned for its ultra-soft Intelliflex bristles that glide through tangles on all hair types easily, minimizing pain, effort and breakage. 
"More than forty years ago, when Paul Newman established Newman's Own, he declared that the company would give away 100% of its profits," says Nicole Malcolm-Manyara, CMO of Newman's Own. "Today, Newman's decision to 'give it all away' is still leading the way in the world of philanthropy and we're excited to announce our first 'Newman's Deal' partnership with another brand, launching a special edition hairbrush with Wet Brush that gives away 100% of the profits to help kids." 
100% of the profits from the sale of the Special Edition Wet Brush x Newman's Own Pro Detangler will be donated to Newman's Own Foundation, which will grant the funds to organizations such as SeriousFun Children's Network in service of the foundation's mission to help kids facing adversity. SeriousFun Children's Network is a global community of 30 camps and programs delivering life-changing experiences to children with serious illnesses, and their families, free of charge. 
"We're thrilled to partner with Newman's Own on this special edition brush that feels as good to use as it does to give. I have witnessed firsthand the meaningful impact that Newman's Own Foundation and SeriousFun Children's Network have on children and their families, and Wet Brush is proud to support this important initiative," shares Melissa Ayers, VP Brand Strategy & Growth for Wet Brush. 
The Special Edition Wet Brush x Newman's Own Pro Detangler in Deep Blue will retail for $14.99 starting November 15 and will be available exclusively on wetbrush.com while supplies last.