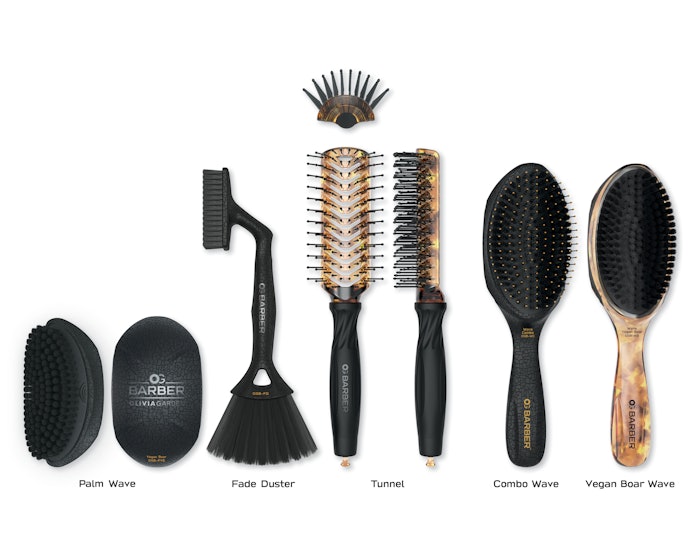 Courtesy of Olivia Garden
Olivia Garden, a leading global manufacturer of professional hair tools, announced the newest addition to its catalog.
Following their initial release of barbering tools in 2022, Olivia Garden now presents a full new collection of brushes built for barbers. The Barber Wave Collection includes five new tools boasting Olivia Garden quality and performance. 
Continuing Olivia Garden's commitment to inspire eco-friendly practices across the beauty industry, the bodies of 3 of the 5 tools in this collection are made from 100% post-consumer plastics and are built to last. Developed in a chic, tortoise shell colorway, the Barber Wave collection is built to fit seamlessly into the tool collection of barbers and stylists alike. 
"In order to truly serve the professionals in the hair and beauty industry, we can't just stop at salons," Anne Maza, Olivia Garden VP of Marketing & Sales shares of the launch. "Creating a collection specifically for barber use is just the first step in ensuring that Olivia Garden quality can be guaranteed for all hair professionals. And of course, we're always honored to be able to offer sustainable alternatives for other products on the market."
With five new tools to work with, the Barber Wave Collection products can be purchased as a collection or individually. These five tools include: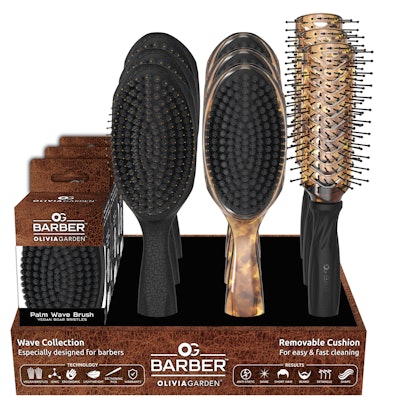 Fade Duster: A truly innovative 2-in-1 tool with dual sides featuring a fade brush and neck duster, the Fade Duster is an invention by Olivia Garden in conjunctions with barbers in order to provide them with the perfect tool for their fades and haircuts. This tool features nylon bristles to quickly dust off cut hairs from clients' heads, faces and necks. Boasting a soft touch, cracked look, it not only looks super cool but feels great in your hand. With a comfortable, ergonomic design for full control, this fully sanitizable tool is a forever product for all barbers.  
Tunnel Brush: Great for volume and styling, this vented brush features ion-charged, ball-tipped bristles for comfort and control. The Tunnel Brush's retractable sectioning pick and a nonslip rubber grip handle offer unique precision and versatility. 
Combo Wave Brush: The Combo Wave Brush is the perfect brush for waves short and medium hair detangling. With a special blend of vegan boar and ionic bristles, this brush hydrates the hair cuticle leaving an impeccable shine. It also features a removable cushion. 
Vegan Boar Wave Brush: With an ergonomic handle design and soft cushion, this vegan boar bristle brush is built for short hair, facial hair and waves. It also features a removable cushion. 
Palm Wave Brush: Perfectly scaled to fit in the palm of your hand, this vegan boar bristle brush creates not only incredible waves but can be used in beards and mustaches as well. It also features a removable cushion. 
The collection is available now on Olivia Garden's website.