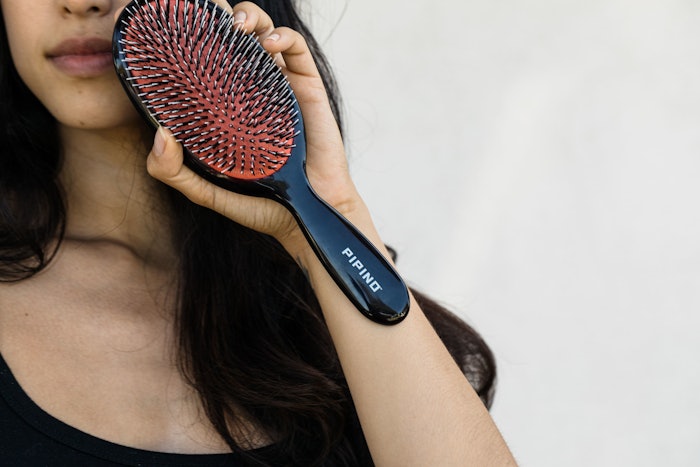 Courtesy of PIPINO
From beauty enthusiasts to the most impossible person on your list, The Pro Brush was born to be the perfect gift. The core product of PIPINO, the life brand from international celebrity hairstylist Ric Pipino, The Pro hairbrush is designed to last a lifetime, and has been the #1 tool in Ric's kit for 30 years. The dual bristle (nylon and boar) paddle brush gently smoothes the hair cuticle for more shine and decreased static, tackles even thick, unruly manes, but won't snag or tear fine, delicate hair. (Plus, the sleek design in glossy black is just really pretty to look at).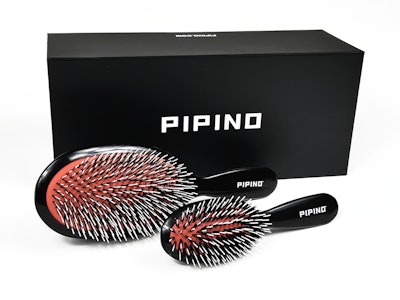 The Large Pro Equally beloved by the pros, clients and every member of the Pipino household, this professional-level tool stands up to photo shoots, high-intensity blow-drying and nonstop days of styling but also provides perfect at-home, everyday blowouts and styling. 9" H x 3.25 W x 2" D
The Small Pro Made with the same professional-level quality, only tinier. Perfect to throw in your bag, or for smaller heads and hands to handle. 7" H x 2.5" W x 1.5 " D
The Pro Brush Set a truly luxurious gift giving experience, the power set of a Large and Small Pro.
Each brush comes in a signature PIPINO Box: a sleek, multi-use showcase ideal for gifting. Equal parts luxe and practical, with a magnetized lid and sturdy frame, the box is meant to be saved and repurposed. Devoted to a more sustainable world, the boxes are made with recyclable cardboard, kraft paper and pearl cotton, and a durable BOPP film paper coating with biodegradable additives that eliminate white (plastic) pollution. Every brush comes with its own kitten-soft velvet care bag for travel and safekeeping (and an extra touch of glamour).
Ric's tips to achieve the silkiest, smoothest, strongest mane:
Hold brush at the base of the paddle where it meets the handle for the best grip, then start at the hairline and brush all the way to back of the head. Really work the bristles into roots to stimulate scalp, wake up sleepy hair follicles and shed loose strands.
Blow dry upside down while brushing hair from roots to ends. While upright, use brush to lift hair at the root and add heat to roots to create soft volume.