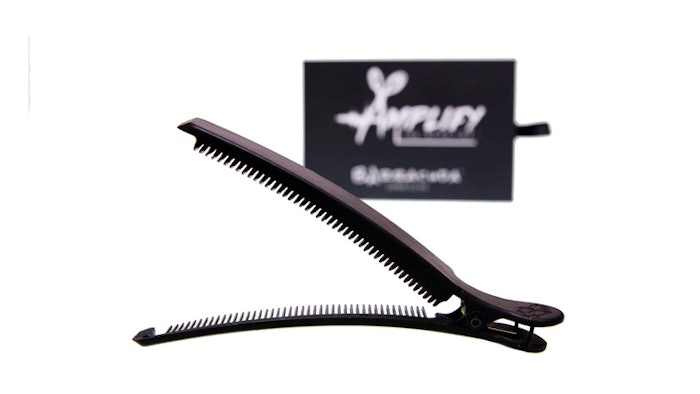 Courtesy of Amplify the Stylist
Amplify the Stylist has released its Barracuda Comb Clip, a multipurpose hair sectioning tool made to increase user control, speed and efficiency.
Key features of the Barracuda Comb Clip:
made with long-lasting carbon material, then covered with a soft-touch rubber overlay with a stainless steel torsion spring to complete the corrosion-free clip
working on both wet and dry hair, Barracuda Comb Clips are perfect for salon, barber and cosmetology professionals
curved design allows for a precise cutting line, and the soft-touch rubber finish offers comfort for both the stylist and client
"Being stuck inside during the COVID lockdown with nothing to do, I ended up producing a lot of tutorial videos for my YouTube page and Hair Salon Education Facebook group. While working on those, I was constantly reminded of how frustrating it was for my clips not only being too big and bulky, but breaking, corroding and not having enough tension to hold the hair when I needed it the most," says Rob Burgio, Barracuda Comb Clip inventor, award-winning Goldwell national artist, master stylist and owner of Tesoro Salon in New York.
 Barracuda Comb Clips are the ideal choice for:
woman's short haircutting, for separating hair in areas by the occipital
men's grooming, providing clean, sharp lines and a guide by using the back of the clip
hair extension installation, offering tight separation of hair with its comb feature and allowing an ideal platform
balayage application and color blocking, because the comb can tease hair and lay over the comb part of the clip with a secure grip
makeup artists, since the clip grooms hair away from the hairline