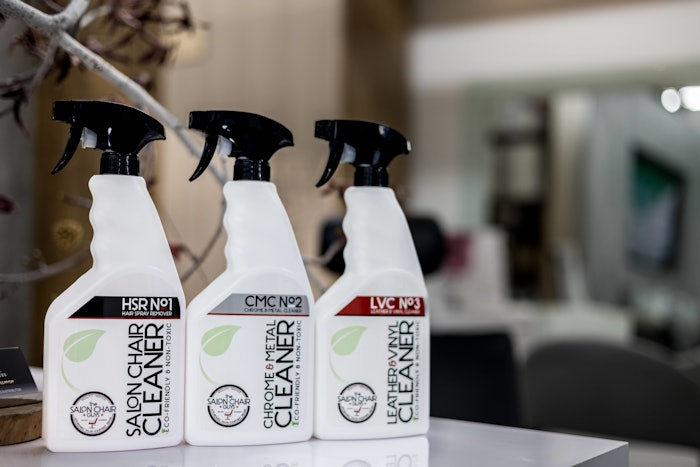 Courtesy of Sustain Beauty x Salon Chair Guys
Sustain Beauty has announced a new partnership with The Salon Chair Guys to launch its salon-specific cleaners to a larger audience across the professional market. 
Sustain Beauty is the home of Scrummi biodegradable towels, Paper Not Foil and ECOHEADS and other sustainable brands.
The Salon Chair Guys, known for their drive to repair, restore and reuse gorgeous antique barbering chairs, also developed their own range of gentle, yet effective and non-toxic cleaners that keeps chairs looking awesome without drying out or cracking the chair material.
The collection consists of three all-natural products a Hairspray and Product Remover, a Chrome and Metal Cleaner and a Leather and Vinyl Cleaner that will clean, protect and maintain any salon or barber chairs. 
"Hygiene is just as important in the salon as image and experience," said Valorie Tate, founder of Sustain Beauty. "But our customers are educated enough to know that sanitizing doesn't require the introduction of harmful chemicals for chairs and surfaces. The power of natural ingredients, used for centuries in other applications, has proven effective and far less harmful. Plus, it helps that the coconut oil smells amazing."
All products are now available from Sustain Beauty direct to salon businesses via website and subscription service.