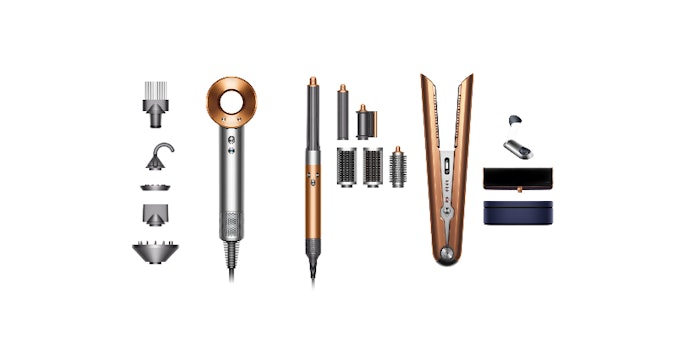 Courtesy of Dyson
Dyson has released a new colorway edition across its highly coveted hair tools: Nickel/Copper. 
The sleek, new Nickel/Copper colorway is available for the Supersonic, Corrale and Airwrap multi-styler!
Engineered for myriad hair types, the Dyson Supersonic hair dryer is powerful and fast. The tool uses a fast but focused airflow, engineered for balance in the hand. 
Dyson Airwrap multi-styler Complete Long
Similarly to the Dyson Supersonic hair dryer, the Dyson Airwrap styler features Dyson's intelligent heat control technology, allowing users to achieve their desired style at a lower temperature, preventing hair from extreme heat damage. 
Suitable for all hair types, the Dyson Corrale straightener features pioneering flexing plate technology, engineered to apply heat and tension evenly across strands in each pass.