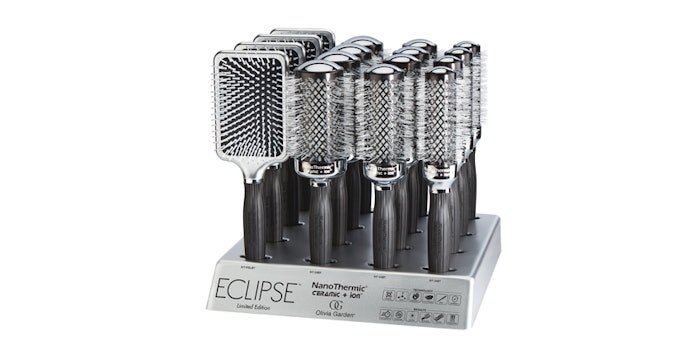 Courtesy of Olivia Garden
Olivia Garden has released a special collection of NanoThermic Ceramic + ion brushes inspired by a solar eclipse: The Eclipse Collection. (October 2021)
This all-new collection is comprised of four brushes: one paddle brush and NanoThermic Ceramic + ion thermal brushes in three sizes: 1 ¼ , 1 ¾ and 2 ⅛.
Features:
Ceramic barrel of the thermal brush heats up faster and retains heat longer, enabling stylists to achieve long-lasting hairstyles.
Extra-large vents reduce dry time, and soft-tip heat-resistant bristles are gentle on the scalp.
Tourmaline ion technology moisturizes the cuticle, adds shine and nixes flyaways.
Easy-grip ergonomic handles and retractable sectioning picks make the Eclipse brush collection a stylist staple.