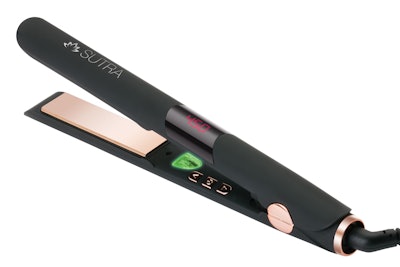 Sutra Beauty introduced the next generation of hair straightening with its IR2 Ionic Infrared Flat Iron. The 1" rose gold titanium plates are paired with an infrared heating element and RF output which helps seal the heat into the hair shaft. Extended rounded edges make it easy to use for styling, and it heats up to 450 degrees in seconds. There is no lag in recovery time, and it has dual voltage for travel.
While infrared technology isn't new to the hair-tool category, Sutra says this is an improved version. The main difference between this new IR tech others out there is that those frequencies operate mains at 80GHz /1.2eV. The IR2 operates at the very edge of the spectrum at 250GHZ/1.6eV. It's all about internal changes that make the end result much better. Hair remains smoother and "sealed" for a longer period of time from things like humidity.
Check out the Sutra IR2 Ionic Infrared Flat Iron here.
[Image courtesy of Sutra]