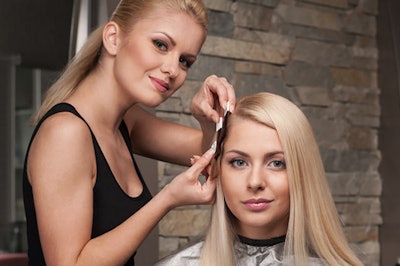 Running a salon is a lot of work. There is no doubt about it! Between managing staff, booking clients, sending confirmations, ordering supplies and marketing your business, there's less time left to efficiently service your customers. With not enough time in the day to do everything, one solution is to systemize as many of the daily processes as possible. Here are the top 5 ways to help automate your salon management so that you can spend more time with clients.
Offer Online Booking
To offer convenience to your clients while relieving some of the pressure from your front desk, consider adding online scheduling. It's an easy to access porthole on your salon website, business Facebook page or salon web app that allows customers to book your salon services at their convenience. In addition to relieving the pressure on your staff, it also helps fill cancellations and empty spots without any effort by you or your team.
Confirm Automatically
Once a booking is made, whether done online or through the salon, use automated confirmations via email and text, that way you or your staff don't have to make confirmation calls in between everything else during the day.
Automate Email Marketing
Set up email communications to automatically deploy after first appointments, for client birthdays or anniversaries, or as a reminder when a client hasn't booked in a while. Besides helping to drum up business from previous clients, the ecards are a nice personalized touch that clients do appreciate.
Manage Inventory Effectively
Opt for a system that automatically tracks your inventory and sends alerts when it's time to reorder. No more last minute bottle counting or running out of product. You can even look for features that allow you to connect with product distributors to set up automatic orders based on predetermined thresholds.
Automate Sales
Use salon software that offers suggestive selling. This feature matches up and suggests appropriate home care products based on recent services (i.e., color care, aftercare for smoothing treatments, etc.). This automatic feature serves as a reminder at checkout and also lets you make recommendations, even allows products to be reserved when clients book services online or receive confirmations.
Once you have all of the desired automation in place, go mobile. Remotely access your schedule, client information, inventory, and more by using cloud-based salon software. That way you can work remotely as needed. This feature is excellent for salon owners and managers or busy booth renters who want to run their business from their phone or other mobile devices.
Do you have any other ideas for automating your busy day? Do share!
[Image courtesy of Rosy Salon Software]