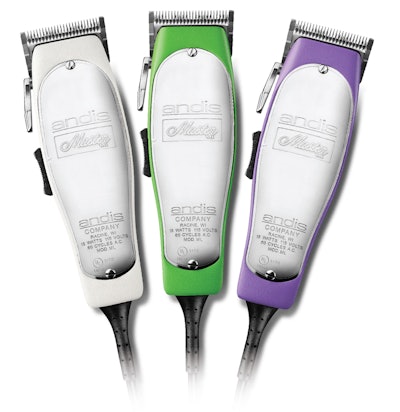 Same legendary high-speed cutting performance in hot new colors
The Andis Master clipper has been prized by generations of American barbers and at-home users alike, for its high-speed cutting performance and durability. Now, Andis has put a colorful spin on its legendary adjustable blade clipper that users are sure to love – new color choices of Ghost, Lime and Grape.
"At Andis, we understand the role that creativity and individuality plays in men's grooming. Folks like to express themselves in unique, creative ways," says Karen Formico, Andis vice president of marketing. "With these new color choices of our most popular clipper, you can express a bit more of your individuality."
These Master clippers include all the same features that have made this tool a barbershop standard: an alloy housing for durability, a powerful, high-speed magnetic motor for cutting all hair types, and a carbon steel blade that adjusts from size 000 to size 1 for precision fading, tapering and all-around cutting versatility. All Master clippers come with blade guard and oil, and feature a one-year limited warranty.
SRP: $139.75 
[Image: Andis]